Art-Pacific Home | Site map | Guide to Artifacts > New Guinea Artifacts > Guide to Sepik River Carvings > Hunstein Mountains
Art-Pacific (Carolyn Leigh - Ron Perry): Guide to Artifacts
Hunstein Mountains, East Sepik Province, Papua New Guinea
buy New Guinea art from JungleOutpost.com and NewGuineaArt.com

The Bahinemo inhabit the Hunstein Mountains, a range south of the upper part of the Sepik River. The April River flows out to the west. The Chambri Lakes are to the east. They are one of the Sepik Hills language groups.
The Bahinemo people are wide ranging hunter-gathers and subsistence gardeners with small base settlements of houses and a ceremonial house. More permanent settlements sometimes form around missions.
Their weapons are shields, bows and beautiful arrows, spears and clubs. Personal items include net bags, wood bowls and suspension hooks, coconut cups and shell jewelry.
Figure 1: Garra face with concentric hooks. Other masks of this type have a small mouth with sharp teeth below the hooks. We have one with a double face.
The Hunstein Mountains are an extremely difficult environment. In Throwim Way Leg, Flannery reports that because of their own very high infant mortality, clans sometimes kidnap children from other groups.
When Douglas Newton did his work in 1971, the total group numbered only 309 people. Most of the following information is from his book, Crocodile and Cassowary.

Figure 2: Concentric-hook garra collected in Bitara from Hunstein people who came down to trade. Called tuknip, associated with masali spirits and fertility.
Bahinemo sacred objects are collectively called garra which include:
A row of large slit-gong drums with carved snouts poking out from under the fringe of the men's ceremonial house, associated with cassowary hunting.
Hourglass-shaped hand drums.
Two different sizes of male and female flutes, associated with pig hunting.
Flat basketry masks woven with two concentric ellipses. The male-female pairs, called panarawa, appear in the young boy's initiation ceremony.
Concentric-hook figures and masks which are hung or placed in a row in the men's ceremonial house. Black paint is often enlivened with white dots. Other colors are red and yellow ochres.

Concentric-hook garras are made by young men and are identified with water spirits. One interpretation is that they represent catfish. They often have a stylized leg on one end and can be hung from the other. They typically have 4 hooks.
Mask garras are identified with bush spirits and older men. The hooks may represent hornbills who live in the bush and are associated with flesh eating.

Figure 3: Mask garra with concentric hooks collected from man in Gahom. Called gra, belonged to "papa bilong mipela" (my father).
The Bahinemo say that a man and a woman at the top of the April River bundled the sacred objects and floated them down on a log. The bundle broke apart in the rapids, scattering the garra to the peoples along the river. This couple is said to still live there, constantly playing their musical instruments, and the area is considered dangerous.
Figure 4: Yam cult tops carved from coconut shell. The left one has a small piece of red cloth to tighten the central stick, the middle one a galvanized nail. The right one is colored with bright pink pigment, possibly school chalk.
They are spun during the yam planting season and at other times for play. We have collected similar yam tops in the Abelam villages.

SEE ALSO:
Internal Links
Books
Crocodile and Cassowary
by Douglas Newton, The Museum of Primitive Art, New York. Distributed by New York Graphic Society, Greenwich, Connecticut, USA, 1971. Pages 18-32, classic reference work, includes the Bahinemo culture, black and white photos and drawings.
Oceanic and Indonesian Art
edited by Harry Beran, The Oceanic Art Society, PO Box 678, Woollahra, NSW, Australia 2025, 1998, ISBN 1-86333-162-X. Page 9 illustrates a garra from their collector's choice exhibition.
Sepik Heritage, Tradition and Change in Papua New Guinea
edited by Nancy Lutkehaus and others for the Wenner-Gren Foundation, published by the Carolina Academic Press, 1990, ISBN 0-89089-322-5. Chapter 17/ Economic Development at the Grass Roots: Wagu Village 1963-83 by T. Wayne Dye, pages 221-231. Perceptive observations of this group of Bahinemo villagers as they encounter and cope with new ideas and aspirations in addition to surviving in their difficult physical environment.
Throwim Way Leg,an Adventure
by Tim Flannery, Published by Text Publishing Company, 1998, ISBN 1-875847-62-6.
National Geographic and a number of other magazines and newspapers have featured articles on the Hunstein area in the last few years, usually associated with attempts to stop large scale logging in the region and promoting sustainable alternatives, not an easy task in this isolated area.
buy New Guinea art from JungleOutpost.com and from NewGuineaArt.com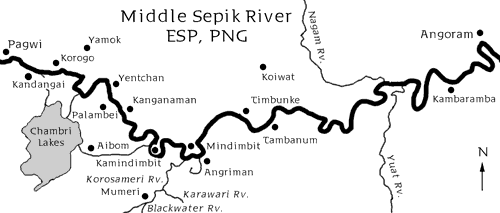 More articles/photos of NEW GUINEA MASKS:
Order now: Art Dealer in the Last Unknown, Ron Perry and New Guinea Art, the early years: 1964 - 1973 by Carolyn Leigh and Ron Perry, 320 pages of adventure, over 450 early photographs - join Ron in the jungles of New Guinea on his search for tribal art.
Browse OCEANIC ART:
INDONESIAN ART:
CHINA: BAI TEXTILES/ART:
Collecting New Guinea art in the field since 1964.

https://www.art-pacific.com/artifacts/nuguinea/sepikriv/sepikupp/hunstein.htm | Contact Us | Art-Pacific at https://www.art-pacific.com/
Artifacts on this site were collected in the field by my husband, Ron Perry. I take the photographs, do the html, text and maps. Background in Who We Are. Art-Pacific has been on the WWW since 1996. We hope you enjoy our New Guinea tribal art and Indonesian folk art as much as we do.
Art-Pacific.com by Carolyn Leigh is licensed under Creative Commons CC BY-ND 4.0