Art-Pacific Home | Site map | Guide to Artifacts > Indonesian Artifacts > Dyak and Bai Baby-Carriers
Art-Pacific (Carolyn Leigh - Ron Perry): Guide to Artifacts
Dyak and Bai Baby-Carriers from Kalimantan, Indonesia and Yunnan Province, China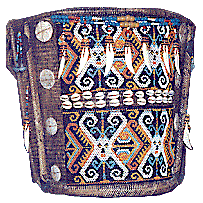 The Dyak tribes of Indonesia and the Bai minority group of China share the distinction of retaining much of their own culture amidst the dominant culture of their respective countries. Children are the key to maintaining a culture and these beautiful baby carriers wrap the child in their group's embrace from birth.
Figure 1: Dyak beaded baby-carrier with spirit faces, shell and teeth charms.
The Dyak of inner Kalimantan (Borneo) were head hunters, who until recently kept settlers out of their dense jungles territories. The tribes still hunt and gather in more remote areas of the bush and practice slash and burn agriculture along the inland rivers.
Beads were traded during the colonial period from Venice by the Portuguese and the Dutch and are associated by the Dyak with agricultural fertility and femininity. Beaded nets and charms are fastened to a stiff, woven rattan and wood base. The beads themselves are believed to form a hard surface which protects against evil. The baby-carrier guards both the body and the soul of the new child, and the charms warn the mother of approaching danger.
More photographs and information on Dyak baby-carriers and masks
More photographs and information on Bai Minority Group baby-carriers
Browse OCEANIC ART:
INDONESIAN ART:
CHINA: BAI TEXTILES/ART:
Collecting New Guinea art in the field since 1964.

https://www.art-pacific.com/artifacts/indonesi/dyakcarc.htm | Contact Us | Art-Pacific at https://www.art-pacific.com/
Artifacts on this site were collected in the field by my husband, Ron Perry. I take the photographs, do the html, text and maps. Background in Who We Are. Art-Pacific has been on the WWW since 1996. We hope you enjoy our New Guinea tribal art and Indonesian folk art as much as we do.
Art-Pacific.com by Carolyn Leigh is licensed under Creative Commons CC BY-ND 4.0