Art-Pacific home | Site map | Guide to artifacts > New Guinea artifacts > Painted Faces - Beauty and Power
Art-Pacific (Carolyn Leigh - Ron Perry): Guide to Artifacts
Painted Faces - Beauty and Power
buy traditional jewelry from JungleOutpost.com and NewGuineaArt.com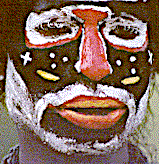 Pigment for Color... | Oil for Shine... | Skin as Ground...
Body painting at the Mt. Hagen and Goroka Shows, PNG.
Figure 1: Detail of painted warrior at the Mt. Hagen Show, PNG 1997, copyright Scott Perry, 1998.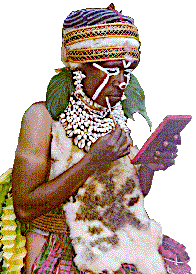 Figure 2: Mt. Hagen woman applies white pigment to her face with a small stick that has been chewed at one end to soften it into a brush.
More photos of dancers wearing traditional jewelry: BILAS
The Mt. Hagen Show is usually held the last part of August, the Goroka Show in September near PNG Independence Day. Often there is a higher priced admission ticket that let's photographers on to the dance field. It is worth the extra money and usually includes seating in the stands and better toilet facilities. Usually the area where the dancers are getting ready is also open with this ticket. Most dancers and their families do not mind photographers as long as they are polite and don't interfere with the complex dressing of the performers.
buy traditional jewelry from JungleOutpost.com and from NewGuineaArt.com
Order now: Art Dealer in the Last Unknown, Ron Perry and New Guinea Art, the early years: 1964 - 1973 by Carolyn Leigh and Ron Perry, 320 pages of adventure, over 450 early photographs - join Ron in the jungles of New Guinea on his search for tribal art.
Browse OCEANIC ART:
INDONESIAN ART:
CHINA: BAI TEXTILES/ART:
Collecting New Guinea art in the field since 1964.

https://www.art-pacific.com/artifacts/nuguinea/bilas/bodyart/bodyartc.htm | Contact Us | Art-Pacific at https://www.art-pacific.com/
Artifacts on this site were collected in the field by my husband, Ron Perry. I take the photographs, do the html, text and maps. Background in Who We Are. Art-Pacific has been on the WWW since 1996. We hope you enjoy our New Guinea tribal art and Indonesian folk art as much as we do.
Art-Pacific.com by Carolyn Leigh is licensed under Creative Commons CC BY-ND 4.0