Art-Pacific Home | Site map | Guide to Artifacts > New Guinea Artifacts > Guide to Sepik River Carvings > Japandai Village
Art-Pacific (Carolyn Leigh - Ron Perry): Guide to Artifacts
Japandai Village, East Sepik Province, Papua New Guinea
buy New Guinea figures from JungleOutpost.com and NewGuineaArt.com

Figure 1: Aibom meri with shell eyes and jewelry ( bilas), a grass skirt and human hair.
Japandai is across the river and not far upstream from Pagwi. It is considered to be part of the Middle Sepik. The carvers have a reputation for copying other village's mark or style in carvings made for sale.
The men carve a unique statue representing an Aibom woman carrying a Chambri pottery fireplace on her head. During a long conflict with a neighboring village, these statues were set up in the village and gardens with offerings placed in the "fireplace" in a successful effort to fight the competing sorcerers' black magic. This figure has become popular and is also carved in Yenchenmangua.
See also: Chambri Pottery
buy New Guinea art from JungleOutpost.com and NewGuineaArt.com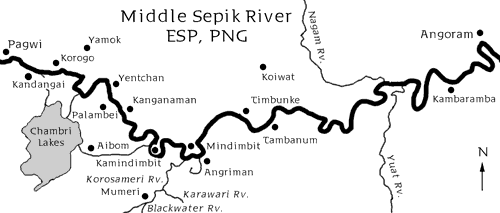 Order now: Art Dealer in the Last Unknown, Ron Perry and New Guinea Art, the early years: 1964 - 1973 by Carolyn Leigh and Ron Perry, 320 pages of adventure, over 450 early photographs - join Ron in the jungles of New Guinea on his search for tribal art.
Browse OCEANIC ART:
INDONESIAN ART:
CHINA: BAI TEXTILES/ART:
Collecting New Guinea art in the field since 1964.

https://www.art-pacific.com/artifacts/nuguinea/sepikriv/sepikmid/japandai.htm | Contact Us | Art-Pacific at https://www.art-pacific.com/
Artifacts on this site were collected in the field by my husband, Ron Perry. I take the photographs, do the html, text and maps. Background in Who We Are. Art-Pacific has been on the WWW since 1996. We hope you enjoy our New Guinea tribal art and Indonesian folk art as much as we do.
Art-Pacific.com by Carolyn Leigh is licensed under Creative Commons CC BY-ND 4.0