Art-Pacific home | Site map | Guide to artifacts > New Guinea artifacts > BILAS > String and Things
Art-Pacific (Carolyn Leigh - Ron Perry): Guide to Artifacts
String and Things
buy traditional jewelry from JungleOutpost.com and NewGuineaArt.com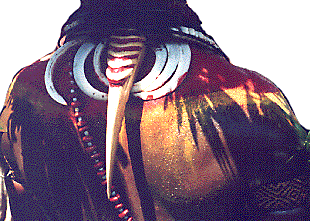 The Huli wigmen are some of the most colorful dancers at the Mt. Hagen Show. This warrior's necklace features a hornbill beak backed by pig tusks and a necklace of Job's tears and red seeds.
Detail of hornbill kokomo beak.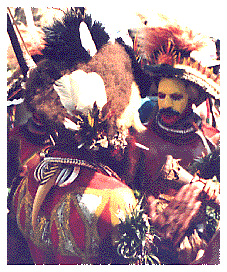 Hair wigs are made by different groups in the Highlands and each has a distinctive form. They are shaped from human hair and elaborated with many different kinds of feathers. Red, yellow and white clays are used for body paint.
The facing warrior has a complete Bird of Paradise attached to front of his wig.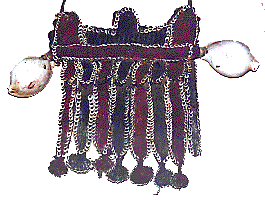 Both the komo-komo necklace from the Bena Bena area and the armband are made from hand-twisted string using a continuous knotting technique. The fibers come from the inner bark of various trees. Small geri geri shells detail the edges of the komo-komo and both pieces are colored using natural dyes.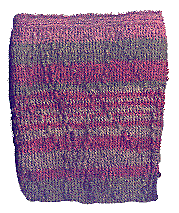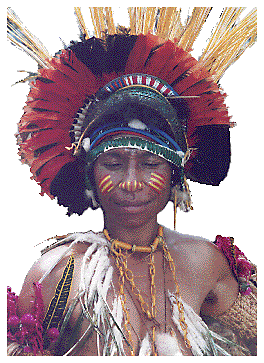 Beautiful feathers are only part of this girl's lovely bilas. Croton leaves and pink everlasting daisies are stuck into her fiber armbands and plumes of ornamental grass extend the height of the headdress. Green beetles and a green snake or lizard skin form part of her headband. Her necklace is a simple, but charming, traditional one made from links of bamboo and woven chains.
This is a similar necklace from the Angu (Kukukuku). They are a small, but fierce people, previously known for their murderous surprise raids on other groups' villages. They live in very remote mountainous country, many days walk from all except a few mission air strips. The tassels are bilum string braided with yellow orchid vine fiber and the center ornament is a opossum ball.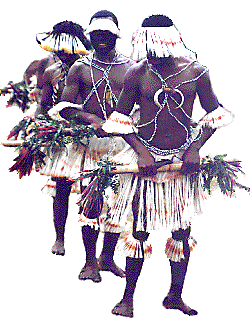 These dancers use plants for different, but tremendous effect. The bleached white grass skirts of the coastal warriors swivel to the beat of the kundu drums.
The fern man wears a cloak of bilum string and has blackened his body with soot and pig grease.
Both wear pig tusk necklaces. The fern man also has a pig tusk nose piece.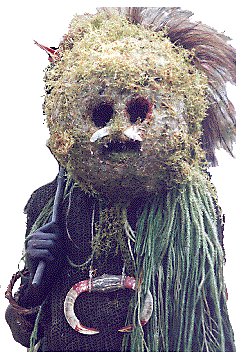 BILAS | Shells are Gold | Tooth and Bone
buy traditional jewelry from JungleOutpost.com and NewGuineaArt.com
More articles/photos of NEW GUINEA MASKS:
Order now: Art Dealer in the Last Unknown, Ron Perry and New Guinea Art, the early years: 1964 - 1973 by Carolyn Leigh and Ron Perry, 320 pages of adventure, over 450 early photographs - join Ron in the jungles of New Guinea on his search for tribal art.
Browse OCEANIC ART:
INDONESIAN ART:
CHINA: BAI TEXTILES/ART:
Collecting New Guinea art in the field since 1964.
Art-Pacific Home | Site map | top of page

https://www.art-pacific.com/artifacts/nuguinea/bilas/traditional/things.htm | Contact Us | Art-Pacific at https://www.art-pacific.com/
Artifacts on this site were collected in the field by my husband, Ron Perry. I take the photographs, do the html, text and maps. Background in Who We Are. Art-Pacific has been on the WWW since 1996. We hope you enjoy our New Guinea tribal art and Indonesian folk art as much as we do.
Art-Pacific.com by Carolyn Leigh is licensed under Creative Commons CC BY-ND 4.0