Art-Pacific home | Site map | Guide to artifacts > New Guinea artifacts > Story Boards from Bark Paintings | Bark Paintings | Story Boards
Art-Pacific (Carolyn Leigh - Ron Perry): Guide to Artifacts
Story Boards from Bark Paintings, Keram River, East Sepik Province, Papua New Guinea
buy New Guinea story boards from JungleOutpost.com and NewGuineaArt.com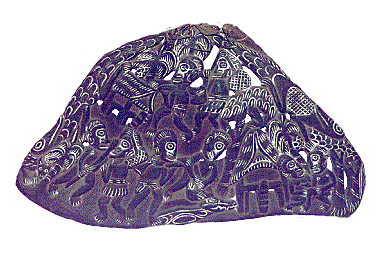 Story boards are wood panels based on bark paintings from the men's ceremonial houses on the Keram River, a tributary of the Sepik River. Sometimes the carvers depict spirit figures from their clan stories.
Figure 1: Story board of village scene with people and thatch houses. The man at the bottom has killed a crocodile.
Figure 2: Detail of Keram River bark painting from the Angoram Haus Tambaran.

More often the men carve village activities: crocodile hunting, traveling in dugout canoes, fishing, preparing sago flour, fights and funerals. The backdrop is their thatch homes and their ceremonial house nestled beneath the tall coconut palms that mark the locations of villages on the rivers. Also included are village animals: pigs, dogs and chickens, plus jungle wildlife: fish, crocodiles, cassowaries, and black cockatoos.
Next: Bark Paintings
---
Changes in village arts (from our first Art-Pacific Artifact of the Month, December 1996)
I chose story boards, a new craft developed in response to a new need, to start this series. Artifacts which do not conform to the outside world's idea of what villagers should be carving, i.e. traditional items solely for use by themselves, are often devalued as having been corrupted by outside influence.
The people of New Guinea are not museum exhibits to be collected and preserved at the moment of contact like their exotic Birds of Paradise. They are intelligent, inventive people dealing with a quickly changing world. It is no surprise that their art also changes to meet these new circumstances, just as it changed and evolved in the past. No culture, no art form is completely static, only the rate of the change differs.
Art was used in pre-contact days to evoke help from ancestors and clan spirits for success in raids, hunting, gardening, and other activities. Now art is sometimes also produced to sell. Money purchases things which make life easier on the rivers: outboard motors, plastic buckets and so on. Perhaps to people who live in this difficult environment the result is much the same, art is a means to improve their lives. Carolyn Leigh
Next: Bark Paintings
buy New Guinea story boards from JungleOutpost.com and from NewGuineaArt.com
Order now: Art Dealer in the Last Unknown, Ron Perry and New Guinea Art, the early years: 1964 - 1973 by Carolyn Leigh and Ron Perry, 320 pages of adventure, over 450 early photographs - join Ron in the jungles of New Guinea on his search for tribal art.
Browse OCEANIC ART:
INDONESIAN ART:
CHINA: BAI TEXTILES/ART:
Collecting New Guinea art in the field since 1964.

https://www.art-pacific.com/artifacts/nuguinea/storybdc.htm | Contact Us | Art-Pacific at https://www.art-pacific.com/
Artifacts on this site were collected in the field by my husband, Ron Perry. I take the photographs, do the html, text and maps. Background in Who We Are. Art-Pacific has been on the WWW since 1996. We hope you enjoy our New Guinea tribal art and Indonesian folk art as much as we do.
Art-Pacific.com by Carolyn Leigh is licensed under Creative Commons CC BY-ND 4.0