Art-Pacific home | Site map | Guide to Artifacts > China: Bai Artifacts > Bai Minority Group Baby-Carriers
Art-Pacific (Carolyn Leigh - Ron Perry): Guide to Artifacts
Bai Minority Group Baby-Carriers from Yunnan Province, China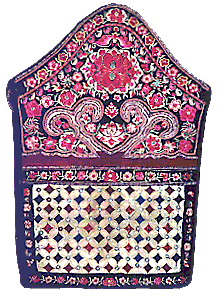 The Bai people live in what is now Yunnan Province of southwestern China. The women have kept much of their traditional dress.

If the first born baby is a girl, she is carried in an embroidered baby-carrier called a guobei, which is unique to the Bai nationality.
Figure 1: Bai embroidered baby-carrier
Figure 2: Bai embroidered figure
The guobei is embroidered with peony flowers in the center and plum blossom and chrysanthemum on both sides, all surrounded by dancing butterflies and a phoenix above and lotus with green leaves, magpies, animals, and flowers at the bottom (from Daughters of Mount Changshan and Erhai Lake, The Bais, by Yang Guocai).
More photographs and information on Bai baby-carriers
Browse China: Bai textiles/art: Bai baby-carriers | Bai hats | Bai woodblock prints
Browse OCEANIC ART:
INDONESIAN ART:
CHINA: BAI TEXTILES/ART:
Art-Pacific Home | Site map | top of page
Collecting New Guinea art in the field since 1964.

https://www.art-pacific.com/baicarrc.htm | Contact Us | Art-Pacific at https://www.art-pacific.com/
Artifacts on this site were collected in the field by my husband, Ron Perry. I take the photographs, do the html, text and maps. Background in Who We Are. Art-Pacific has been on the WWW since 1996. We hope you enjoy our New Guinea tribal art and Indonesian folk art as much as we do.
Art-Pacific.com by Carolyn Leigh is licensed under Creative Commons CC BY-ND 4.0