Figure 1: Wickerwork cane gable mask from Mumeri village.
Mumeri Village is near the junction of the Blackwater and the Korosameri Rivers. The Mumeri people came from the Sepik River, but have incorporated the typical long nose of the Blackwater tumbuans into this gable mask.
Gable masks are hung in peak of the exterior gable of the Haus Tambarans. Some are woven into the frame of the Haus itself. They range in size from 3 to 9 feet (1 to 3 meters).

Figure 2: Suspension hook from Sangriman or Yesimbit Village
Farther up the Blackwater are Sangriman, Yesimbit and Tungimbit Villages. They sit back from the main channel of the river under the tree fringe edge of the jungle. In the dry season, the wide plain between the villages and the river is a hot mud flat cut only by narrow channels (barets) for small pole canoes. When these dry up, everyone has to walk out.
When we buy, carvings are carried and laid out along the top of the mud bank above the Blackwater. Families pitch plastic tarps from driftwood sticks for shade. Carvings are covered with palm fronds to keep them from cracking in the heat of the sun.
This little suspension hook has a human face with clan markings and possibly a catfish face on the hook. Small carvings from the Blackwater tend to be more detailed than similar ones from the Sepik. Hooks are hung from the ceilings to store food items away from rats in village houses. Ceremonial ones are used in the Haus Tambarans.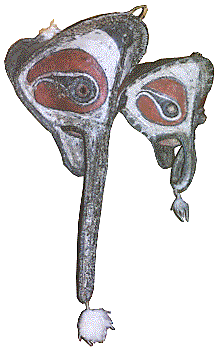 Figure 3: Long nose tumbuans from Kabriman Village, Blackwater River. The male is called nario in tok ples (left) and the female is called nariofa. (right)(1)
These long nose tumbuans may represent water or bush spirits. They hang in the ceiling of the Haus Tambarans when not in use. They are not common and the female ones are unusual.
The wickerwork is painted with a thick coat of red clay, white lime and charcoal based pigments. Sometimes red or blue enamel paint is used. Tassels of cassowary, chicken and other feathers are added.
Different villages have slightly different styles; for example, many of the tumbuans from Kaningara Village have slit eyes and detailed curvilinear clan designs. Occasionally, the mask is woven down to form a full body costume.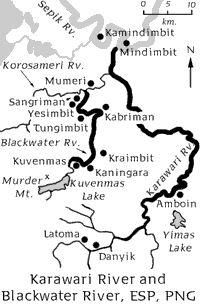 From The Seized Collections of the Papua New Guinea Museum, pp. 74-75: "Masks of this type are not complete without a skirt of sago fronds to conceal the dancer. Wickerwork masks with long noses represent male spirits associated with natural phenomena, like a stream, or animals, especially birds. They perform in pairs and are used during initiation ceremonies when the initiates receive their scarification marks.
There are also short nosed wickerwork masks and these represent female. The male masks appear to have skirts to the knee, while the female masks wear their skirts to the ankle (Personal communication from men of the ceremonial house Anyawiman of Kuvenmas village)."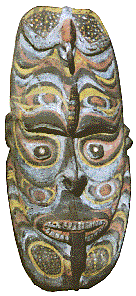 Figure 4: Wooden gable-style mask from Kuvenmas Village, more than 3 feet (1 meter) high.

The Blackwater River originates from Kuvenmas Lake below Murder Mountain. Kuvenmas Village is the biggest village near the lake and has a bold, colorful style of carving. Their large wooden gable masks remind me of aggressive male figures in Japanese Kabuki prints.
Figure 5: One-leg (wanleg) figure about 12 feet (4 meters) tall, probably from the upper Blackwater around Kuvenmas Lake.
The concentric hooks on this wanleg may represent ribs and the central part, the heart. The style may have originated in the Karawari River area.
Story of Wanleg figures (as told by Michael Uliau of Kraimbit, collected by Helen Dennett) from Mak Bilong Sepik, "... a female ancestor close to death charged her son to carve a garamut drum from the tree that would spring from her grave. Four days after her death the son felled the massive tree that had appeared and made the first garamut.
"From the pieces of wood left over he fashioned wanleg figures. He was surprised to find that these were endowed with the powers of speech and movement. In war expeditions the figures, bounding along on their single legs, would precede the warriors to kill and sow confusion in the enemy village. They were of great assistance too in hunting. The wanleg used to live in the haus tambaran. One day an inquisitive woman climbed a tree close to the haus ... and saw the wanleg. She was killed ... but the wanlegs reverted to lifeless pieces of wood."
Books
Mark Bilong Sepik, a Selection of Designs and Paintings from the Sepik River, Papua New Guinea,
by Helen and Paul Dennett, Wirui Press, Wewak, PNG, 1975, reprinted 1987. Pages 115-117 show wanleg figures.
The Seized Collections
text by Dirk Smidt, The Creative Arts Center and Papua New Guinea Museum, 1975. Artifacts from the Blackwater and Karawari Rivers, pp. 64, 65, 74-77.
The Sepik - Ramu, An Introduction,
prepared by Pamela Swadling, Brigitta Hauser Schäublin, Paul Gorecki and Frank Tiesler, PNG National Museum, 1988. Photographs 202, 205-208 show Haus Tambarans in Blackwater and Karawari River villages.
Notes
(1) Tok ples names, nario for male long nose and nariofa for female long nose tumbuans, at Sevenbuk in the Kuvenmas Lake drainage area, ESP, PNG, late 1999.
---
Diary entry, 1985: Blackwater River up to Kuvenmas Village
Copyright Carolyn Leigh, 1999. All rights reserved.
We turn off the wide Sepik River and run our motor canoe up the smaller Blackwater River for several days. It's dry season, so from Sangriman, Yesimbit and Tungimbit, people walk out over mud flats to reach us. There's no shade. Men cover their line of carvings with palm fronds or scraps of rice bags while they wait along the mud banks for us to get to them. One woman brought her green and red parrot along. It flutters about on her shoulder, trying to keep in the shadow of her head.

We arrive late at Kabriman. Cook curry and rice in the dim light of our propane lamp. Their suspension hooks are 3 foot (1 meter) male figures with red, white and blue disks at the top to keep the rats out of the food bilums hanging off the hooks. They argue up and down all night next door: she yells, he yells.

Today, on the big bend at Kaningara, men run down to the sandbar waving some long-nose tumbuans to sell. It's late and we want to make Kuvenmas, so we didn't stop. (Can't believe we passed up long-noses. Bom signaled them with hand signs that we'd stop on our way back, but we were out of money and energy by then and didn't.)

In mid-afternoon we pull our canoe up to the Kuvenmas landing. Ahead of us, Murder Mountain looms deep green. The lake is higher up and said to be beautiful. Kuvenmas is the biggest village.

We have to walk in with our patrol boxes and other gear. Everyone at the landing grabs something to carry for us and starts off. It is still and sticky along the track. Finally, the jungle opens into a sunny clearing filled with graceful thatch-roofed houses. We trudge past these shady homes towards the Haus Tambaran.

The Haus looms up. It's huge with a giant gable mask on the front guarding the upper level door. The winged finial statue soars high into the sky. We part the hanging frond skirt around the under edge of the Haus and step into the work area. It's stacked with carvings.

Kuvenmas sculptures are large, colorful and dramatic. Groups of one-legs tower in corners. Giant masks with staring eyes and protruding tongues are propped up along the wide sitting beds that run around the sides and down the middle of the Haus. "All our young men have to carve if they stay in the village. They can't leave without our approval, if they want to be able to come back," the Big Men tell us.

We haven't got money left to buy this much. We can give them tickets if they want to bring the carvings we mark down to the road head at Timbunke. We will pay them there at a set date. They say they will talk it over tonight.

They give us the half-finished school house to string up our mosquito nets in. The teacher stops by to show us where to bathe. We follow him up the mountain. It's still stifling hot even in deep shade. The path picks its way through rounded boulders and smooth pebbles to the edge of a pool fed by a bubbling stream. There are three pools, he tells us. The top one is for getting drinking water, the middle one is for washing clothes and this bottom one is for bathing. He goes back to wait for us at the trail head and ensure our privacy.

The deep pool is perfectly circular, lined with flat, smooth stones. The jungle canopy domes above us. Wide-leafed vines drape down. We plunge into the cool water. Once we wash the sweat off and settle down, it's icy cold. Pure mountain water, not like the muddy river water we usually bath in. Half floating, half sitting on the stones, we watch iridescent azure butterflies the size of my hand hover and flit in darts of sunlight.

Later, the Kuvenmas men came down with three double canoes of carvings to Timbunke. We lined, checked and paid for five villages' carvings that day. On the way home, one of the canoes broke apart and sank in a choppy stretch of water. That group lost all their money.

In 1997, we took a Mumeri canoe up as far as Kabriman and paid with checks. They told us a local trader from Mumeri followed us up with a canoe full of trade goods because he knew that people would have some money. He accepted our checks in trade at a discount, since he had to carry them into Wewak to cash. He brought essentials and small luxuries: kerosene, matches, fish hooks, batteries for boom boxes, tinned fish, rice and beer.

1985: Ron Perry, Carolyn Leigh, Frank Patania, Bom and Sori
1997: Ron Perry, Carolyn Leigh, Frank Patania, Randy Leon, Peter Dimi, Bom and Pius
buy New Guinea art from JungleOutpost.com and from NewGuineaArt.com
More articles/photos of NEW GUINEA MASKS:
Order now: Art Dealer in the Last Unknown, Ron Perry and New Guinea Art, the early years: 1964 - 1973 by Carolyn Leigh and Ron Perry, 320 pages of adventure, over 450 early photographs - join Ron in the jungles of New Guinea on his search for tribal art.
Browse OCEANIC ART:
INDONESIAN ART:
CHINA - BAI TEXTILES:
Collecting New Guinea art in the field since 1964.
Art-Pacific Home | Site map | top of page

Photographs, text and maps copyright © Carolyn Leigh, 1996-2011. All rights reserved.
http://www.art-pacific.com/artifacts/nuguinea/sepikriv/blkwater/blkwater.htm
Contact Us
Artifacts on this site are collected in the field by my husband, Ron Perry. I take the photographs, do the html, text and maps. More background in Who We Are. Art-Pacific has been on the WWW since 1996. We hope you enjoy our New Guinea tribal art and Indonesian folk art as much as we do. Carolyn Leigh, P.O. Box 85284, Tucson, AZ 85754-5284 USA, Art-Pacific at http://www.art-pacific.com/