Art-Pacific Home | Site map | Guide to Artifacts > New Guinea Artifacts > Guide to Sepik River Carvings > Yamok Village
Art-Pacific (Carolyn Leigh - Ron Perry): Guide to Artifacts
Yamok Village, East Sepik Province, Papua New Guinea
buy New Guinea figures from JungleOutpost.com and NewGuineaArt.com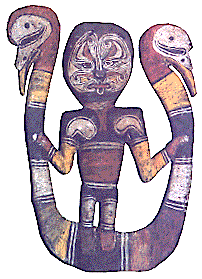 Figures 1 and 2: Samban carvings of ancestor figures encircled by totems of guardian wildlife. Valuables and ritual objects are hung on the samban for protection and power.
Yamok is several hours walk off the Sepik. The men carve a bird (subut) from their creation story.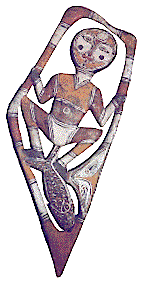 In the beginning, the Yamoks say everything was fluid. A crocodile raped a woman form, but the bird pulled the woman away from the clutches of the crocodile and flew her away to the safety of the grass country. She laid two eggs, which the bird helped her tend. When they hatched, one was a human form. The other was a crocodile man (kombiomo) who now lives in the barets (channels) and raunwaras (oxbow lakes) between Yamok and Korogo. The kombiomo is more likely to be evil than kind.
Woman are said to hold the knowledge of the people, while men hold the power. The carving of a woman inside a power circle is protective, keeping the poison of sorcerers and other evil away.
buy New Guinea art from JungleOutpost.com and NewGuineaArt.com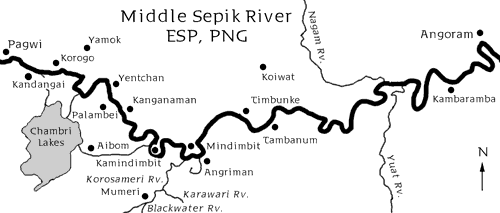 Order now: Art Dealer in the Last Unknown, Ron Perry and New Guinea Art, the early years: 1964 - 1973 by Carolyn Leigh and Ron Perry, 320 pages of adventure, over 450 early photographs - join Ron in the jungles of New Guinea on his search for tribal art.
Browse OCEANIC ART:
INDONESIAN ART:
CHINA: BAI TEXTILES/ART:
Collecting New Guinea art in the field since 1964.

https://www.art-pacific.com/artifacts/nuguinea/sepikriv/sepikmid/yamok.htm | Contact Us | Art-Pacific at https://www.art-pacific.com/
Artifacts on this site were collected in the field by my husband, Ron Perry. I take the photographs, do the html, text and maps. Background in Who We Are. Art-Pacific has been on the WWW since 1996. We hope you enjoy our New Guinea tribal art and Indonesian folk art as much as we do.
Art-Pacific.com by Carolyn Leigh is licensed under Creative Commons CC BY-ND 4.0