Art-Pacific home | Site map | Guide to artifacts > New Guinea artifacts > Papuan Gulf Map > Gogodala
Art-Pacific (Carolyn Leigh - Ron Perry): Guide to Artifacts
Gogodala, Aramia River, Western Province, PNG
The Gogodala live in the swamp and grass plain above the Aramia River in the western part of the Gulf of Papua. Their villages are built on small hills or ridges which become islands in the wet season. (Gulf map)

Figure 1: Animal effigy clan totem (gi lopala) representing a crocodile (sibala) devouring a clan father. Photo courtesy of Frank and Kate Slavens.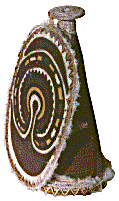 Gogodala art forms are different from the rest of the Gulf. Designs are painted rather than carved. More colors are used. The effect is more decorative. Gawa tao, totemic clan designs, are the basic motif. These eye-like motifs are regular, but the overall designs are often asymmetrical.
Figure 2: Conical hat (diba) decorated with a plaque (ikews). The plaque design is a clan insignia (gawa tao). The top edge is detailed with the typical Gulf triangle. A simpler type has only a geometric pattern.

All married, initiated men wore the diba. They let their hair grow up through the top and hang down in dreadlocks. Wood carvings still represent men wearing the diba.
Black, white, red and yellow clays are mixed with plant juices and a tree resin to make water resistant paints. These are applied to a light weight wood. The design is detailed with lots of red abrus seeds, mother-of-pearl discs and feathers.
Figure 3: Dance mask (liga:le) of a clan father wearing the diba headdress topped with a clan totem hornbill and an animal. Note the typical strong emphasis on the eyes. In a ceremony, the edge would be decorated with elaborate feather plumes. The dancer looks out through the lower crescent. A second type is a true mask (kosa:ya) which usually portrays the face of an ancestral clan father.
The Gogodala make 90 foot (30 meter) dugout racing canoes with elaborate prows and painted sides. Paddles are decorated with the owner's clan gawa tao.

Figure 4: Animal effigy clan totem (gi lopala)representing a fish devouring a clan father. These were used during initiation ceremonies. They were considered to be canoes. Gi gawa are similar except they are hollowed out like canoes. Male and female ancestor figures and heads are also made. 3-dimensional figures are not common anywhere else in the Gulf. Carvings are made in many different sizes depending on their use.

Figure 5: Animal effigy of a dog (soka:). Photo courtesy of a private collection.
Aida is a Gogodala ancestral hero. His society's most powerful items were a rattle also known as aida, and the huge powerful drum, diwaka. These were stored in special lofts in the longhouses.
The large diwaka drums were owned by clans. Two types of smaller hand-held drums, one with the jaw-like open end typical of the Gulf, are owned by individuals.
Figure 6: Gogodala phallocrypt

Most of the Gulf communities converted to Christianity starting in the 1930s. This was true for the Gogodala. Their art was so closely tied to their Aida cult that the destruction of the old beliefs included almost total destruction of their art forms. This also happened in the rest of the Gulf.
In 1972, Tony Crawford took 100 photos from museum collections into the field. He hoped to collect any remaining artifacts for the Commonwealth Art Advisory Board. He found only one artifact, a sacred diwaka drum, had survived. The knowledge was still there, but the carvers were afraid to make the pieces.
As he got to know the people, he suggested their masks could be revived to use in a dance competition. The Gogodala began participating in and winning at dance festivals in Papua New Guinea. In 1974, they built a longhouse at Balimo for the Gogodala Cultural Centre. Contemporary Gogodala art stems from this revival.(1)
SEE ALSO:
Links in this site:
Books
Papuan Gulf Map has the annotated list of books used to research our Papuan Gulf articles.
Aida, Life and Ceremony of the Gogodala, by A. L. Crawford, 1981. Classic book on the Gogodala people, their culture and daily life. The partial revival of traditional carving and attempt to integrate traditional and contemporary culture into a whole. Color contemporary photos, plus black and white historic photos of the people, villages and artifacts. Mac Ruff's excellent pen and ink cross section of a longhouse and a layout of Isago village, pages 86-87. Two earlier booklets are:

Sakema Gogodala Wood Carvers, by A. L. Crawford, 1975. Black and white photographs of carvers and their work.
Papua New Guinea, Gogodala, Lagoon Dwellers of the Gulf, Land and People Series No. 3, by A. L. Crawford, 1975. Color photographs of everyday life and of ceremony.
Notes
(1) Alternate spellings/names. There are wide variations and overlaps in the terms used in the Papuan Gulf and in the literature. See Art Styles of the Papuan Gulf, by Douglas Newton for a chart of distribution of types and names of objects, page 36.
Map of the Papuan Gulf, Papua New Guinea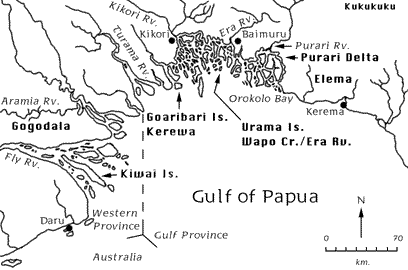 More articles/photos of NEW GUINEA MASKS:
Order now: Art Dealer in the Last Unknown, Ron Perry and New Guinea Art, the early years: 1964 - 1973 by Carolyn Leigh and Ron Perry, 320 pages of adventure, over 450 early photographs - join Ron in the jungles of New Guinea on his search for tribal art.
Browse OCEANIC ART:
INDONESIAN ART:
CHINA: BAI TEXTILES/ART:
Collecting New Guinea art in the field since 1964.

https://www.art-pacific.com/artifacts/nuguinea/papuan/gogodala.htm | Contact Us | Art-Pacific at https://www.art-pacific.com/
Artifacts on this site were collected in the field by my husband, Ron Perry. I take the photographs, do the html, text and maps. Background in Who We Are. Art-Pacific has been on the WWW since 1996. We hope you enjoy our New Guinea tribal art and Indonesian folk art as much as we do.
Art-Pacific.com by Carolyn Leigh is licensed under Creative Commons CC BY-ND 4.0