Oceanic New Guinea art

Art and artifacts: articles, photos and maps for New Guinea, the Solomon Islands ....
site map calendar/news | contact us
Order New Guinea art on-line from:
Havaiki Oceanic and Tribal Art
Trader Vic's Oceanic and Tiki Decor

BUY DIRECT from us during the Tucson Gem and Mineral Show: more info
See also:
Crossing Cultures, Adventure, Art Along the Pacific Rim: join us as we traveled with stories, photos and art at our RimJournal.com site
OAS: Oceanic Art Society - great info from experts, collectors and friends of Oceanic art and artists - Join!

Figure 1: New Guinea Highland warrior. Figure 2: Abelam ceremonial deoo with Papuan Hornbills. 3: Sepik River canoe prow.
Artifacts used to illustrate the articles are not for sale. Please visit some of our dealers and art galleries for similar pieces.
Publications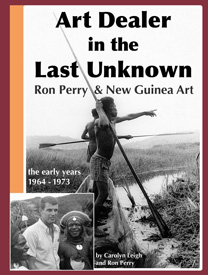 Art Dealer in the Last Unknown
Ron Perry and New Guinea Art
the early years: 1964 - 1973
by Carolyn Leigh and Ron Perry
Join Ron in the jungles of New Guinea on his search for tribal art, 320 pages of adventure, over 450 early photographs, only $45 USDollars plus shipping. Order from us or from our dealers.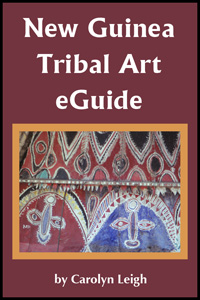 New Guinea Tribal Art eGuide
by Carolyn Leigh with Ron Perry and Doug Mehaffey

Find out about your fabulous piece of New Guinea tribal art. The eGuide provides quick info about New Guinea art and art areas with links to more information. The eGuide contains over 130 photographs and 10 maps, plus adventure photos from Ron's explorations in New Guinea.

Buy now from Amazon or from the Apple Store through iTunes for all your electronic book readers - only $3.99.