Art-Pacific Home | Site map | Guide to Artifacts > New Guinea Artifacts > Guide to Sepik River Carvings > Kandangai Village
Art-Pacific (Carolyn Leigh - Ron Perry): Guide to Artifacts
Kandangai Village, East Sepik Province, Papua New Guinea
buy New Guinea figures from JungleOutpost.com and NewGuineaArt.com

Figure 1: 3 foot (1 meter) suspension hook with clan face, flying fox (fruit bat) and bird figures.
Kandangai carvers make big, bold hooks up to 6 feet (2 meters) high with protruding eyes set with white shell(1). The hooks are painted black. Full figures are common, usually male.
Kandangai Village sits on a large raunwara (round water), a cutoff meander of the Sepik River. The baret back into the villages of Kandangai (2) and Nyaurangei joins the Sepik across from Yenichenmangua, upriver from Korogo.
Their raunwara is rich in birdlife. Ron guided a birding tour group in the 1970s that identified over 70 different species in one day. The far end of the baret joins with the Chambri Lakes during high water.
SEE ALSO:
Internal Links
Notes
(1) Salt water shells are traded up the Sepik River from the coastal villages. Shells are sold in the Angoram market and also in the Wewak markets. Common ones are cowrie and geri-geri. The eyes in this hook are large cut shell disks which are harder to get, but typical of Kandangai figures.
(2) Also spelled Kandingai, Kandingei, Kandige.
---
Diary entry, 1970s: Kandangai Headhunter
Copyright Carolyn Leigh, 1998. All rights reserved.
Men use gourd lime containers to hold the powdered lime chewed with betel nut, plus a long stick to get the lime out of the gourd. The decorated gourd and stick tell something about a man's status.
In the 1970s, two men were still alive in Kandangai who remembered their head hunting days. One of the old warriors offered to sell his lime container to Ron. It was a plain gourd with a wooden stick hung with 6 or 8 tassels. He said each of the tassels marked a human head he took as a young man.
Ron asked him, didn't he want to keep the pieces, why did he want to sell? The man told his teenage daughter to tell Ron that he was an old man now and he would rather have money.
buy New Guinea art from JungleOutpost.com and NewGuineaArt.com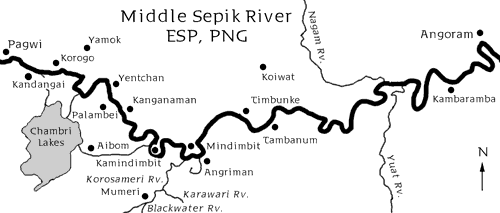 Order now: Art Dealer in the Last Unknown, Ron Perry and New Guinea Art, the early years: 1964 - 1973 by Carolyn Leigh and Ron Perry, 320 pages of adventure, over 450 early photographs - join Ron in the jungles of New Guinea on his search for tribal art.
Browse OCEANIC ART:
INDONESIAN ART:
CHINA: BAI TEXTILES/ART:
Collecting New Guinea art in the field since 1964.

https://www.art-pacific.com/artifacts/nuguinea/sepikriv/sepikmid/kandanga.htm | Contact Us | Art-Pacific at https://www.art-pacific.com/
Artifacts on this site were collected in the field by my husband, Ron Perry. I take the photographs, do the html, text and maps. Background in Who We Are. Art-Pacific has been on the WWW since 1996. We hope you enjoy our New Guinea tribal art and Indonesian folk art as much as we do.
Art-Pacific.com by Carolyn Leigh is licensed under Creative Commons CC BY-ND 4.0