Art-Pacific home | Site map | Guide to artifacts > New Guinea artifacts > Massim: Trobriand Islands and Kula exchange
Art-Pacific (Carolyn Leigh - Ron Perry): Guide to Artifacts
Massim: Trobriand Islands and Kula exchange, Milne Bay Province, PNG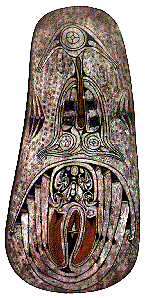 The Massim cultural area begins with Milne Bay at the east end of New Guinea and includes the island peaks of submerged mountains and coral ringed archipelagoes beyond to the southeast and southwest for as far as 300 miles (480 km). (1)
Massim art favors decorative 2-dimensional carving covered with low relief abstract designs. The incised elements are filled with white lime to emphasis detail. A major motif is curvilinear interlocking scrolls which some researchers believe could be derived from the early Dongson metalwork of southeast Asia.
Figure 1: Trobriand shield with incised and painted designs which some researchers have interpreted as female. Malinowski reported that many shields were left undecorated as only courageous warriors painted their shields. Painted shields were seen as a challenge and attracted many more spears. Photo and information courtesy of a private collection.
Other motifs include bands of zigzags and stylized birds, fish and animals, as well as some 3-dimensional carving of human figures. Shell discs, cowries, and tassels of seeds and beads dramatize the finesse of this beautiful art. The appeal of this classic style attracted collectors from the beginning of European contact.
Massim carving includes:
Figure 2: Trobriand yam house panel detail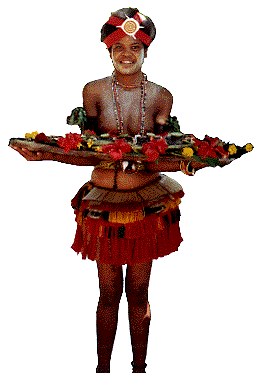 Figure 3: Trobriand girl wearing traditional layered skirt, Kaibola Village, Kiriwina Island. Photo copyright Robin Leahy Hogdson, 1995.
Taro is the staple food, but yams are the status crop in the Trobriands. Yams are eaten at weddings, funerals and other ritual feasts. The July-August harvest is followed by two months of feasts and competitions before work on the next planting begins.
Yams are competitively displayed around the decorated yam storage houses in the plazas. Dance competitions and Trobriand cricket matches (2) are organized by the ranked chiefs with backing from their wives' matrilineal clans.
Funeral ceremonies and feasts are important. They take place over a period of months and often honor a group of deceased relatives. Sponsorship of a Massim mortuary feast signifies the heir's ability to assume both assets and debts of the deceased. This can include exchanges with a man's Kula partners and paying off his pig debts.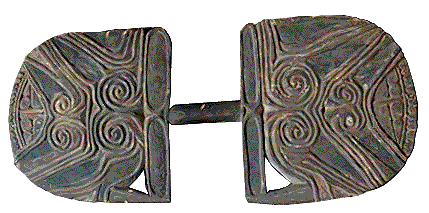 Figure 4: Trobriand dance paddle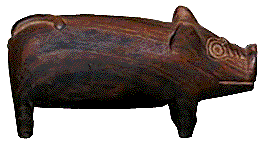 Figure 5: Pig carved in variegated ebony from Woodlark Island, typical of pigs carved for sale. We saw a similar pig in an exhibition of Malinowski's diaries and personal collection. (3)
The Trobriand Kula ring was one of many trade cycles in the South Pacific at contact. Ocean going outrigger canoes, often with sails, plied mostly short journeys between islands and the nearby coastal villages of New Guinea. The Trobriands and adjacent islands did not produce all their needs, so trading partners and voyages developed to exchange items. Two other rings operated along southern trade routes in the Massim area. Arm-shells were traded all the way to the Motu near Port Moresby. With the impact of European trade, many of these Pacific trade relationships vanished even from memory, but the Kula has adjusted and thrived. (4)
Figure 6: Massim Area and trade routes showing the direction of kula ring cycles. Necklaces travel clockwise, arm-shells counter-clockwise.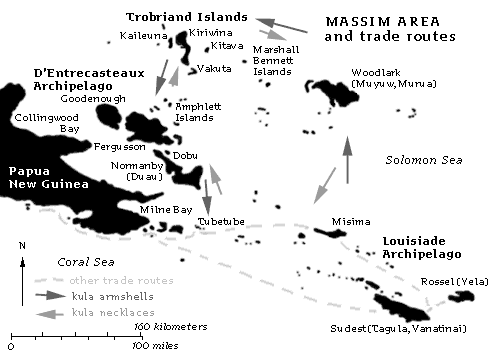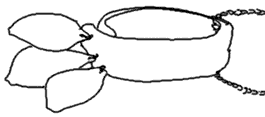 Figure 7: Sketch of Trobriand mwali armshell with attached egg cowry shells
Valuables exchanged in the Kula Ring: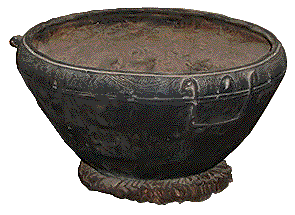 Figure 8: Amphlett Island pot (kuria) has typical thin walls and rim with incised designs, attached fillets and animal head. This very large pot still has sago encrusted inside.
Amphlett Island pottery includes very large pots which are traded for vegetables and pigs from more fertile areas. Other islands and coastal mainland villages were expert manufactures of stone axes, sea-going canoes, necklaces and arm-shells, harvested yams, sago or betel-nut, or supplied raw materials like red ochre, obsidian and parrot feathers.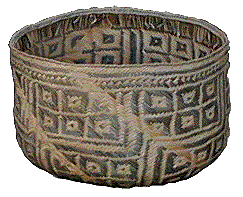 Figure 9: Rossel Island plaited basket for carrying betel nut paraphernalia. Sometimes these baskets have a false bottom and are sold as "thieves baskets".
Other Massim betel nut baskets include the Trobriand envelope-shaped basket plaited from a single coconut frond and sets of 3 nested baskets with a carry strap made of plaited pandanus and banana leaf. Nuts could be hidden in the bottom basket if a man didn't want to share them.
Figure 10: Betel nut lime spatula, blade type, decorated with cowry shell and red trade beads. More decoration, perhaps bead and seed tassels, would have hung from the other holes.

Lime spatulas are usually carved from hard black wood (ebony) which gets a nice patina with use. The style may show a person's rank. For example, the clapper type is restricted to chiefs and sorcerers. Its handle is cut into two sections which create a sound when knocked on a firm surface. Some types of handles have superb figures created by master carvers. These sculptural qualities have made lime spatulas a favorite of collectors.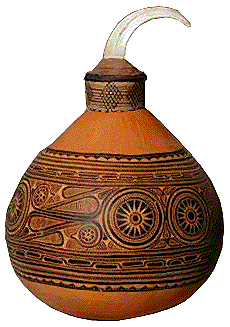 Figure 11: Trobriand gourd lime container with stopper made of rolled up leaf covered with fine basketwork. The pig tusk and the band of burnt-in designs are typical of 20th century styles. Coconuts with wooden stoppers were also used. The powdered mineral lime is chewed with betel nut. At contact, special lime pots and spatulas were made from the skulls and bones of deceased relatives. (6)
Footnotes include more information on:

Figure 12: Massim betel nut mortar and pestle with old patina. The pestle has a man's head carved on top. The mortar is a barrel form with a typical S-shaped bird design which may represent a frigate bird or a fish hawk. Other distinctive mortar shapes are drums and canoes.
SEE ALSO:
Links in this site:
Books used to research this article.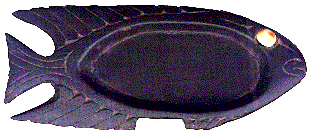 Figure 13: Paint palette is typical of Massim carvings in ebony.
Notes
Order now: Art Dealer in the Last Unknown, Ron Perry and New Guinea Art, the early years: 1964 - 1973 by Carolyn Leigh and Ron Perry, 320 pages of adventure, over 450 early photographs - join Ron in the jungles of New Guinea on his search for tribal art.
Browse OCEANIC ART:
INDONESIAN ART:
CHINA: BAI TEXTILES/ART:
Collecting New Guinea art in the field since 1964.

https://www.art-pacific.com/artifacts/nuguinea/massim/trobkula.htm | Contact Us | Art-Pacific at https://www.art-pacific.com/
Artifacts on this site were collected in the field by my husband, Ron Perry. I take the photographs, do the html, text and maps. Background in Who We Are. Art-Pacific has been on the WWW since 1996. We hope you enjoy our New Guinea tribal art and Indonesian folk art as much as we do.
Art-Pacific.com by Carolyn Leigh is licensed under Creative Commons CC BY-ND 4.0