Art-Pacific Home | Site map | Guide to Artifacts > New Guinea Artifacts > Guide to Sepik River Carvings > Mindimbit Village
Art-Pacific (Carolyn Leigh - Ron Perry): Guide to Artifacts
Mindimbit Village, East Sepik Province, Papua New Guinea
buy New Guinea figures from JungleOutpost.com and NewGuineaArt.com

Figure 1: Typical Mindimbit ancestor figure.
Mindimbit figures and masks are notable for the use of finely detailed chip carving accentuated with red clay and white lime paint. The designs are similar to the ones painted on participants in initiations and other ceremonies.
Mindimbit is a big, well-kept village on the Middle Sepik, near the junction with the Korosameri River. Upper Mindimbit Village is Seventh-Day Adventist. Lower Mindimbit Village is not. There is some movement of people between the two halves. Both groups carve statues along with a few masks. The larger, upper village does the majority of the carving.
Figure 2: Orator's stool with a pig tusk nose piece, shell eyes and handmade bilum string for his beard and laplap.
The larger than life-size orator's "chairs" are the central figures in the Haus Tambaran. No human being sits on these stools, only the protecting spirit is there, presiding over ceremonies or the settlement of disputes. An orator stands beside it and calls on the clan spirit to support his speech.
To emphasis a point, the speaker may strike the "seat" of the stool with a bundle of croton leaves. As long as a man holds the bundle of leaves or grass, he holds the floor. The speaker may gradually reduce the number of leaves in the bundle to show that he is progressing through the points he intends to make. Link to a photo of a Korogo Village orator's stool.
buy New Guinea art from JungleOutpost.com and NewGuineaArt.com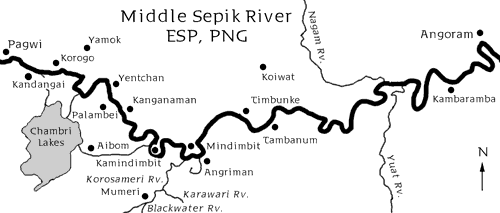 Order now: Art Dealer in the Last Unknown, Ron Perry and New Guinea Art, the early years: 1964 - 1973 by Carolyn Leigh and Ron Perry, 320 pages of adventure, over 450 early photographs - join Ron in the jungles of New Guinea on his search for tribal art.
Browse OCEANIC ART:
INDONESIAN ART:
CHINA: BAI TEXTILES/ART:
Collecting New Guinea art in the field since 1964.

https://www.art-pacific.com/artifacts/nuguinea/sepikriv/sepikmid/mindimbi.htm | Contact Us | Art-Pacific at https://www.art-pacific.com/
Artifacts on this site were collected in the field by my husband, Ron Perry. I take the photographs, do the html, text and maps. Background in Who We Are. Art-Pacific has been on the WWW since 1996. We hope you enjoy our New Guinea tribal art and Indonesian folk art as much as we do.
Art-Pacific.com by Carolyn Leigh is licensed under Creative Commons CC BY-ND 4.0