Art-Pacific home | Site map | Guide to artifacts > New Guinea artifacts > New Guinea Shields > Upper Sepik River Shields
Art-Pacific (Carolyn Leigh - Ron Perry): Guide to Artifacts
Upper Sepik River Shields, Papua New Guinea
buy Upper Sepik Artifacts from NewGuineaArt.com
The faces on this first shield are typical of the distinctive Wogumas face. Their river bank villages are clustered in the area of the junctions of the April and Wogumas Rivers with the Sepik River.
Figure 1: Wogumas shield, upper Sepik River.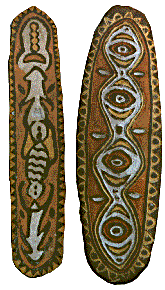 Figure 2: Two shields from the Bahiemo area.
Two shields from the Bahiemo cultural group which centers around the Hunstein Mountains. Collected from the Gahom people along the April River. These people are hunter-gatherers who forage in small groups. They are away from their villages for long periods of time. They make shields, spears, bows and finely carved arrows. A sketch similar to the right hand shield is illustrated in Douglas Newton's Crocodile and Cassowary, page 25. The one on the left is acculturated, without the usual bi-symmetry in its design.

Figure 3: Manambu shield with geometric designs.
The Manambu language people live along the Sepik River in the vicinity of Ambunti. Their culture has elements of both the river sago collectors and the hill yam cults. They were formerly head hunters. This large shield with geometric designs was purchased from Matthew Andi at the Brugnauwi camp in Ambunti, 1985.

Figure 4: Kwoma shield.
Old Kwoma shield with a face similar to the one illustrated in Crocodile and Cassowary, p.106. The Kwoma live in the hills around the Ambunti Mountains, although recently they have moved closer to the rivers. They are yam cult people.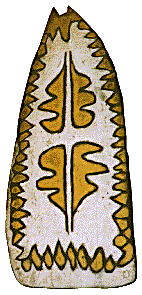 Figure 5: Green River shield.
The remote Green River flows close to Papua New Guinea's border between its West Sepik Province and Indonesia's Papua (Irian Jaya) Province. The isolated groups of people in this rugged terrain are primarily hunter-gathers with small garden plots.
See also: Ambunti Mountains (Waskuk Hills) and Hunstein Mountains in our Guide to Sepik River Carvings
Crocodile and Cassowary,
by Douglas Newton, The Museum of Primitive Art, New York. Distributed by New York Graphic Society, Greenwich, Connecticut, USA, 1971. Survey of the religious art of the Upper Sepik River, New Guinea.
Previous | Next: Ramu River Shields
Order now: Art Dealer in the Last Unknown, Ron Perry and New Guinea Art, the early years: 1964 - 1973 by Carolyn Leigh and Ron Perry, 320 pages of adventure, over 450 early photographs - join Ron in the jungles of New Guinea on his search for tribal art.
Browse OCEANIC ART:
INDONESIAN ART:
CHINA: BAI TEXTILES/ART:
Collecting New Guinea art in the field since 1964.

https://www.art-pacific.com/artifacts/nuguinea/shields/sepikup.htm | Contact Us | Art-Pacific at https://www.art-pacific.com/
Artifacts on this site were collected in the field by my husband, Ron Perry. I take the photographs, do the html, text and maps. Background in Who We Are. Art-Pacific has been on the WWW since 1996. We hope you enjoy our New Guinea tribal art and Indonesian folk art as much as we do.
Art-Pacific.com by Carolyn Leigh is licensed under Creative Commons CC BY-ND 4.0