Art-Pacific Home | Site map | Guide to Artifacts > New Guinea Artifacts > Guide to Sepik River Carvings > Yentchan Village
Art-Pacific (Carolyn Leigh - Ron Perry): Guide to Artifacts
Yentchan Village, East Sepik Province, Papua New Guinea
buy bilums from JungleOutpost.com and NewGuineaArt.com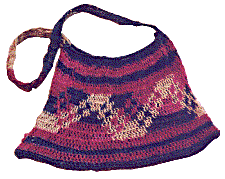 Figure 1: Small bilum or net bag. Bilum string is made from the inner bark of trees, pandanus fiber and other long-fibered plant materials. Sometimes additional decorative fur, feathers or other items are twisted into the string. The knotting technique uses a continuous figure eight.

Figure 2: Yentchan clan statue with man and hornbill bird.
Yentchan has a large Haus Tambaran sited on a bluff beneath the coconut palms that mark the location of permanent villages. Sometimes young boys scurry up to bring down fresh coconuts. A slice is cut off the top with a bush knife and the cool milk inside is refreshing on a hot, sticky afternoon. No one sits under the coconut palm; the falling nuts are deadly.
The women have bilas (shell jewelry) and bilums(string bags) for sale and sometimes the men have a few carvings.
buy bilums from JungleOutpost.com and NewGuineaArt.com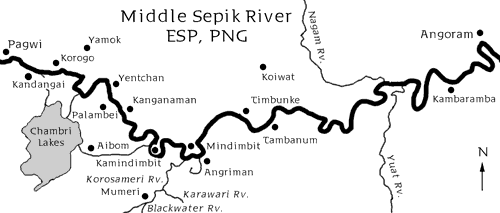 Order now: Art Dealer in the Last Unknown, Ron Perry and New Guinea Art, the early years: 1964 - 1973 by Carolyn Leigh and Ron Perry, 320 pages of adventure, over 450 early photographs - join Ron in the jungles of New Guinea on his search for tribal art.
Browse OCEANIC ART:
INDONESIAN ART:
CHINA: BAI TEXTILES/ART:
Collecting New Guinea art in the field since 1964.

https://www.art-pacific.com/artifacts/nuguinea/sepikriv/sepikmid/yentchan.htm | Contact Us | Art-Pacific at https://www.art-pacific.com/
Artifacts on this site were collected in the field by my husband, Ron Perry. I take the photographs, do the html, text and maps. Background in Who We Are. Art-Pacific has been on the WWW since 1996. We hope you enjoy our New Guinea tribal art and Indonesian folk art as much as we do.
Art-Pacific.com by Carolyn Leigh is licensed under Creative Commons CC BY-ND 4.0
s