Art-Pacific home | Site map | Guide to artifacts > New Guinea artifacts > Solomon Islands TOC
Art-Pacific (Carolyn Leigh - Ron Perry): Guide to Artifacts
Solomon Islands TOC: links, books, diary entries, map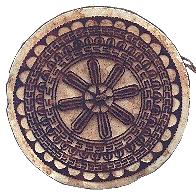 Links in this site:
on this page:
Figure 1: Solomon Islands kap kap pendant, photo courtesy of a private collection
Figure 2: Modern style cut-shell necklace made in Busu Village, Langa Langa Lagoon, Malaita Island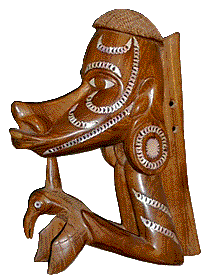 Figure 3: Solomon Islands staff with figure, photo courtesy of Taylor A. Dale - Tribal Arts, Santa Fe, New Mexico, USA.
Figure 4: Nguzunguzu canoe prow figurehead holding a bird. Nguzunguzu have become a national symbol of the Solomon Islands.
Figure 5: Map of the Solomon Islands and Bougainville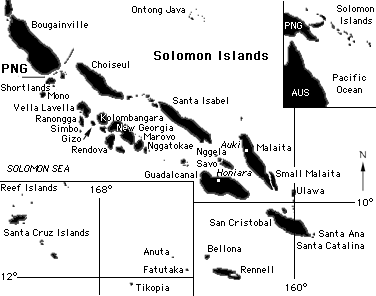 SEE ALSO:
Custom Stories of the Solomon Islands, Vol. 1-5
published by the Cultural Association of the Solomon Islands, 1979
Honiara, Solomon Islands
Collected stories in both the original languages and in English translation.

Grass Roots Art of the Solomons
edited by John and Sue Chick
published by Pacific Publications, Sydney, 1978, ISBN 0-85807-037-5
Booklet on designs and motifs, black and white drawings and photos.

A Guadalcanal Society, The Kaoka Speakers
by Ian Hogbin
published by Holt, Rinehart and Winston, Inc., 1964
Cultural anthropology study.

Handcrafts of the Solomon Islands
Government of Solomon Islands, Ministry of Trade, Honiara, 1986
Booklet on current handicrafts in the Solomons, color plates.

Kwaio Religion
by Roger M. Keesing
published by Cultural Association of the Solomon Islands, Honiara, 1977
Booklet on the traditional mountain dwelling Kwaio people.

Oceanic and Indonesian Art,
edited by Harry Beran,
The Oceanic Art Society, PO Box 678, Woollahra, NSW, Australia 2025, 1998, ISBN 1-86333-162-X
Published by Crawford House Publishing Pty Ltd, Australia
Includes Solomon Islands prow, pendant and 2 types of shields, pp. 55,67, 84, 85.

A Short Guide to the Material Culture of the Solomon Islands and the Collection in the National Museum
published by Cultural Association of the Solomon Islands
Brief, but descriptive booklet.
*The National Museum is in Honiara. During the civil war in 1999, their beautiful roll of Santa Cruz feather money and a moon rock were stolen. If the Museum or the Craft Shop buildings are locked, look around and see if one of the staff will open them.

Solomon Islands
by Ann Stevenson
publication of the Solomon Islands Tourist Authority, 1988, ISBN 0-473-00621-9
Lahood Publications Ltd., PO Box 9733, Newmarket, Auckland, NZ, Tel: (09) 547-496
Informative magazine format book covering history, natural history, people, craftwork and much more. Many historic black and white photos, line drawings, maps and contemporary photographs.

The Solomon Islands, People and Land Series No. 5
by David Holdsworth
published by Robert Brown and Associates, 1977, ISBN 0-909093-14-8
Booklet with color photos of village life.

The Spirited Earth, Dance, Myth and Ritual from South Asia to the South Pacific
text and photographs by Victoria Ginn
published by Rizzoli International Publications, 1990, ISBN 0-8478-1167-0
300 Park Ave South, NY, NY, 10010, USA
Color plates convey the powerful dramatic effect of village performance and dance. Solomon Islands ceremonies pp. 28-33, 79-83, 94-97, 114-119, 128, 129, 147-152, 184, 185.

Traditional Money from the Solomon Islands, Part 1 and 2
by Charles J. Opitz
published by First Impressions Printing, 1997
1847 SW 27th Ave, Ocala, FL, USA
Detailed descriptions and place names for different types of traditional money in the Solomons, black and white photos, bibliography.
Order now: Art Dealer in the Last Unknown, Ron Perry and New Guinea Art, the early years: 1964 - 1973 by Carolyn Leigh and Ron Perry, 320 pages of adventure, over 450 early photographs - join Ron in the jungles of New Guinea on his search for tribal art.
Browse OCEANIC ART:
INDONESIAN ART:
CHINA: BAI TEXTILES/ART:
Collecting New Guinea art in the field since 1964.

https://www.art-pacific.com/artifacts/nuguinea/solomons/maplinks.htm | Contact Us | Art-Pacific at https://www.art-pacific.com/
Artifacts on this site were collected in the field by my husband, Ron Perry. I take the photographs, do the html, text and maps. Background in Who We Are. Art-Pacific has been on the WWW since 1996. We hope you enjoy our New Guinea tribal art and Indonesian folk art as much as we do.
Art-Pacific.com by Carolyn Leigh is licensed under Creative Commons CC BY-ND 4.0