Art-Pacific Home | Site map | Guide to Artifacts > New Guinea Artifacts > Guide to Sepik River Carvings > Korogo Village
Art-Pacific (Carolyn Leigh - Ron Perry): Guide to Artifacts
Korogo Village, East Sepik Province, Papua New Guinea
buy New Guinea figures from JungleOutpost.com and NewGuineaArt.com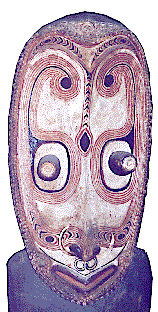 Figure 1: Korogo face from orator's stool spirit figure.
Korogo is a large, powerful village with a relatively new Haus Tambaran. There is a fee to take photographs and they enforce it.
Korogo carvers use a very fine, detailed style in the painting of their clan designs on the faces of their carvings. They are also known for their large orator's stools.
The curvilinear red lines on the face represent cuscus (opossum) tails. The Iatmul term is mabma, kapul in Tok Pisin. This marsupial with its blunt, rounded face, spotted coat and curling prehensile tail is extremely important to the Iatmul. A headband of cuscus fur signified the "homicide" in times past - that the man had killed at least once. (Matthew McDavitt)
Figure 2: Suspension hook with mwai-style face.
See also: Mindimbit Village for an explanation of orator's stools. For more on hooks and masks, see our articles on Basket Hooks and Masks from the Middle Sepik River in the Guide to Artifacts.
buy New Guinea art from JungleOutpost.com and NewGuineaArt.com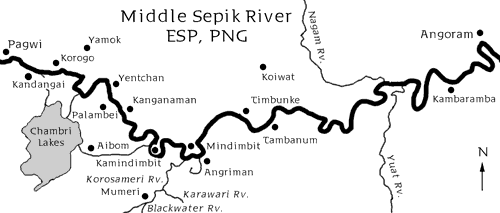 Order now: Art Dealer in the Last Unknown, Ron Perry and New Guinea Art, the early years: 1964 - 1973 by Carolyn Leigh and Ron Perry, 320 pages of adventure, over 450 early photographs - join Ron in the jungles of New Guinea on his search for tribal art.
Browse OCEANIC ART:
INDONESIAN ART:
CHINA: BAI TEXTILES/ART:
Collecting New Guinea art in the field since 1964.

https://www.art-pacific.com/artifacts/nuguinea/sepikriv/sepikmid/korogo.htm | Contact Us | Art-Pacific at https://www.art-pacific.com/
Artifacts on this site were collected in the field by my husband, Ron Perry. I take the photographs, do the html, text and maps. Background in Who We Are. Art-Pacific has been on the WWW since 1996. We hope you enjoy our New Guinea tribal art and Indonesian folk art as much as we do.
Art-Pacific.com by Carolyn Leigh is licensed under Creative Commons CC BY-ND 4.0