Art-Pacific Home | Site map | Guide to Artifacts > New Guinea Artifacts > Guide to Sepik River Carvings > Kambaramba Village
Art-Pacific (Carolyn Leigh - Ron Perry): Guide to Artifacts
Kambaramba Village, East Sepik Province, Papua New Guinea
buy New Guinea art from JungleOutpost.com and NewGuineaArt.com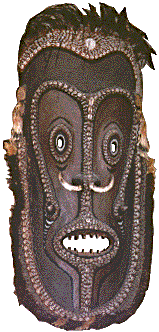 Figure 1: Haus Tambaran gable mask for the front gable. Carved by Theo Abel. He is recognized as a powerful Master carver in the village and his house stands off by itself. He has the right to take another carver to court if they carve this mask. (Personal communication, Robin Leahy, Melanesian Arts Centre, Lae, PNG, 1998)
Kambaramba Village is built entirely on stilts over an oxbow segment of the Sepik near Angoram. It is often a stop for the tour boats because of its photogenic qualities. The village has always been one of the poorest on the river and was built on stilts because the people were not powerful enough to claim any dry land for their own. The women of the village often worked as local prostitutes to help support their families. Many families from Kambaramba were given blocks of land and rubber trees in the Gavien Resettlement Project during the Australian administration to help alleviate these conditions.
Kambarambas are not known for their carvings, but like most Sepiks, they decorate their canoe prows with crocodile heads and make low tables and stools for their houses. Since some of our crew comes from Kambaramba, we usually go out to Gavien to buy from their camp. Over the years, I've collected some lovely and also some weird pieces. One I wish I had kept was a human figure with a crocodile head carved from a forked branch in a pose that resembled a ballerina in a grass skirt doing a plié.
buy New Guinea artfrom JungleOutpost.com and NewGuineaArt.com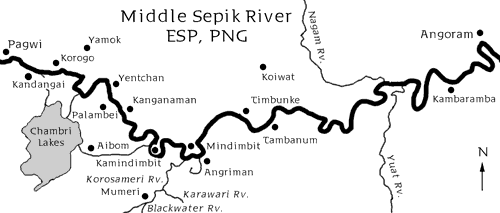 More articles/photos of NEW GUINEA MASKS:
Order now: Art Dealer in the Last Unknown, Ron Perry and New Guinea Art, the early years: 1964 - 1973 by Carolyn Leigh and Ron Perry, 320 pages of adventure, over 450 early photographs - join Ron in the jungles of New Guinea on his search for tribal art.
Browse OCEANIC ART:
INDONESIAN ART:
CHINA: BAI TEXTILES/ART:
Collecting New Guinea art in the field since 1964.

https://www.art-pacific.com/artifacts/nuguinea/sepikriv/sepiklow/kambaram.htm | Contact Us | Art-Pacific at https://www.art-pacific.com/
Artifacts on this site were collected in the field by my husband, Ron Perry. I take the photographs, do the html, text and maps. Background in Who We Are. Art-Pacific has been on the WWW since 1996. We hope you enjoy our New Guinea tribal art and Indonesian folk art as much as we do.
Art-Pacific.com by Carolyn Leigh is licensed under Creative Commons CC BY-ND 4.0