Art-Pacific home | Site map | Guide to Artifacts > China: Bai Artifacts > Bai Minority Group woodblock prints
Art-Pacific (Carolyn Leigh - Ron Perry): Guide to Artifacts
Bai Minority Group woodblock prints from Shaping Market, Yunnan Province, China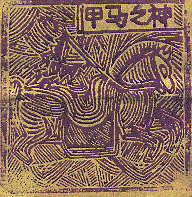 Shaping Market is one of a weekly series of rotating farmer's markets in the vicinity of Dali. In May 1996, it took about one hour from old Dali to Shaping by minibus.
Two older Bai women had each laid out long tables filled with dozens of boxes of small woodblock prints. The boxes contained rows of folded sets of prints from the same block, about a dozen to a set. There were also rolled, ribbon tied groups of different prints, about six to a roll.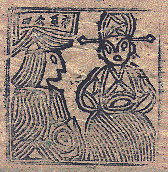 I think the prints may be for offerings, the same as or similar to Buddhist ones. They were probably meant to be burned, but my twenty-five words of Mandarin were inadequate to find out. The quality of each print varied widely. I've reproduced the best examples of the ones I carried back.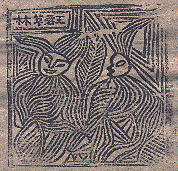 The Tibetan Cafe in Dali sponsored exhibits of contemporary woodcuts by local artists at a gallery up the street from the cafe. At least one show had traveled to France.
The prints in the market were much simpler. They were approximately 5 x 6 inches (10 x 15 cm). The images were printed with black ink on handmade paper. Sometimes colored inks, such as purple, were used. Paper colors included cream, yellow and pink.
Ron bargained for three randomly selected sets and the owner gave me a present of one rolled set, but wouldn't let me take her photograph.
I collected nine different prints altogether. Four appear to feature kings, three of them with attendants.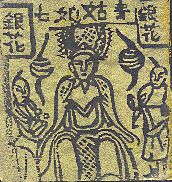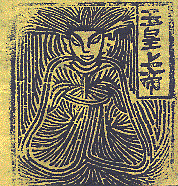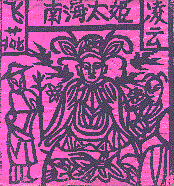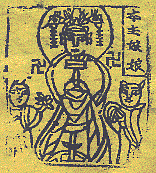 Two prints depict men with butterfly wings. The same faces and the same butterfly men appear in some of the embroidery motifs on the Bai baby carriers that we bought. When Ron bargained, these butterfly men were always pointed out to us and increased the value of the piece as far as the Bai women were concerned.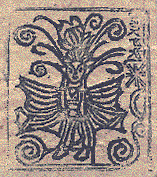 There was an annual Butterfly Festival near Shaping. We didn't know about it and had gone up to Lijiang. We only glimpsed the milling, colorfully dressed crowd breaking up as we came back on the bus in the late afternoon.
Zhang Yan Lan, the friendly young Bai woman at the Camellia travel agency, said to me, " The butterflies don't come anymore now that there are so many people, but we still have our festival."
This last print, depicts a butterfly man and his companion poised above the steep mountains and hillsides of Dali. It will always remind me of the beautiful, rugged countryside and of the artistry and strength of the Bai people.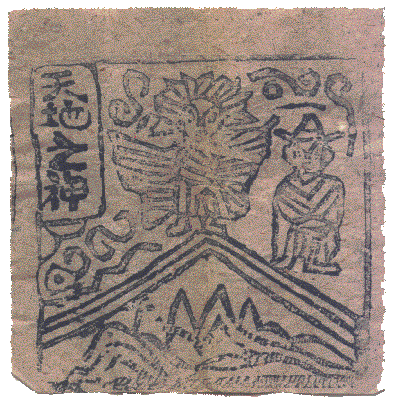 Browse China: Bai textiles/art: Bai baby-carriers | Bai hats | Bai woodblock prints
Browse OCEANIC ART:
INDONESIAN ART:
CHINA: BAI TEXTILES/ART:
Art-Pacific Home | Site map | top of page
Collecting New Guinea art in the field since 1964.

https://www.art-pacific.com/baiprint.htm | Contact Us | Art-Pacific at https://www.art-pacific.com/
Artifacts on this site were collected in the field by my husband, Ron Perry. I take the photographs, do the html, text and maps. Background in Who We Are. Art-Pacific has been on the WWW since 1996. We hope you enjoy our New Guinea tribal art and Indonesian folk art as much as we do.
Art-Pacific.com by Carolyn Leigh is licensed under Creative Commons CC BY-ND 4.0