Art-Pacific home | Site map | Guide to artifacts > New Guinea artifacts > Chambri Pottery
Art-Pacific (Carolyn Leigh - Ron Perry): Guide to Artifacts
Chambri Pottery - Aibom Village, Chambri Lakes, ESP, Papua New Guinea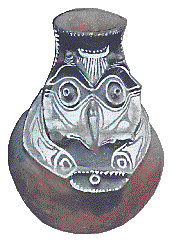 Chambri pottery is essential for food preparation and storage in the thatched stilt houses along the Sepik River. Although some cooking is done outside, each house has a place for a gugumbe or fire dish and some large sago flour storage jars.
Figure 1: Sago storage pot with bird face.
Only the Iatmul speaking village of Aibom, which sits inland off the middle Sepik River in the Chambri Lakes, has suitable clay to make this style of pottery. Women collect clay from pits at the foot of Aibom Mountain behind the village. Most women make pots of all types during the wet season. If they marry outside the village they lose their access to the clay pits, but they can still make pots.
A potter starts with a double thickness pinch pot and adds coils to build up the form. The coils are smoothed to complete the pot. The pots are dried to the leather-hard stage under the stilt houses, a slow process in the tropics.
Decoration is added, sometimes with filets or with finely detailed clay slip designs using natural earth colors of red, black and white. Men traditionally shape the faces and figures on the ridge tiles, sago and ceremonial pots and they also do the painting. Recently some women are doing this, especially on the smaller pots made for outside sales.
Firing is done before a big market day. The pots are set out in the sun to finish drying, then fired by heaping dried sago palm fronds over the mounded pottery. The firing takes from 30-60 minutes. The pots are properly fired when they turn orange. This produces a very low fire pottery.
Margaret Tuckson and Patricia May collected a number of different stories about the female deity that brought pottery to the tribe during their work on their classic book. See the Chambri references on pp. 231-141 of their excellent and comprehensive book on traditional pottery in Papua New Guinea, The Traditional Pottery of Papua New Guinea.
More photographs and information on Chambri pottery
Order now: Art Dealer in the Last Unknown, Ron Perry and New Guinea Art, the early years: 1964 - 1973 by Carolyn Leigh and Ron Perry, 320 pages of adventure, over 450 early photographs - join Ron in the jungles of New Guinea on his search for tribal art.
Browse OCEANIC ART:
INDONESIAN ART:
CHINA: BAI TEXTILES/ART:
Collecting New Guinea art in the field since 1964.

https://www.art-pacific.com/artifacts/nuguinea/potschmc.htm | Contact Us | Art-Pacific at https://www.art-pacific.com/
Artifacts on this site were collected in the field by my husband, Ron Perry. I take the photographs, do the html, text and maps. Background in Who We Are. Art-Pacific has been on the WWW since 1996. We hope you enjoy our New Guinea tribal art and Indonesian folk art as much as we do.
Art-Pacific.com by Carolyn Leigh is licensed under Creative Commons CC BY-ND 4.0