Art-Pacific home | Site map | Guide to artifacts > New Guinea artifacts > | Ramu River Map | Lower Ramu River Carvings | Middle Ramu River Carvings
Art-Pacific (Carolyn Leigh - Ron Perry): Guide to Artifacts
Middle Ramu River Carvings, Madang Province, Papua New Guinea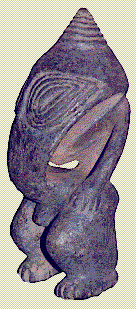 buy New Guinea art from JungleOutpost.com and NewGuineaArt.com
Little is published on the Middle Ramu River region and stylistic areas are blurred. Dirk Smidt identified 5 linguistic groups: Rao, Breri, Banaro, Akrukay and Romkun. Carving styles that most frequently appear on the market seem to be from the following general locations based on our own collecting.

Figure 1: Typical Minias Village hunting charm. These small figure carvings are carried by men in their bilums.
Figure 2: Typical elongated Wokam Village figure which may represent a half-human/half-eagle ancestor. Notice the similarities with the squatter Keram River figure from Minias Village.
Wokam Village, Ramu River and Minias Village, Keram River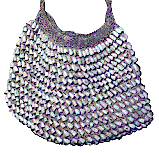 Minias figures from the Keram River are often referred to as Ramu figures because they are traded over and down the Ramu River. There are stylistic and probably linguistic connections with the Ramu villages.
Figure 3: Initiated man's bilum (sikam pass) from Dakit Village at the mouth of the Moem River.
The string in this net bag (bilum) is made from the inner bark of the tulif tree (timbak) and decorated with Job's tears (sican). It is probably worn by the men during ceremonies (sing sings).

Figure 4:Finely carved Misingi figure with opposing pointed projections.

The catalogue for the Seized Collections says these projections are typical of the Breri language group. We have also seen this concentric-hook style in a male-female pair from the Guam River. What we have collected ourselves and have seen offered for sale in PNG has come from Misingi Village in the Rao linguistic area.
Figure 5: Statue with 3 flute mask-style faces, possibly collected on the Guam (Goam) River.
We have seen pieces like this one that resemble Chungrebu Village carvings and others with projection points like Misingi Village carvings attributed to the Guam River villages.

Figure 6: Flute mask with white lime and red ochre paint.
These small masks are tied to bamboo flutes during ceremonies. The flute may be the voice of the mask.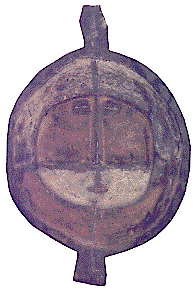 Figure 7: So called "moon masks" from Chungrebu Village with white lime and red ochre pigment. The name is used by dealers and refers only to the shape, not to any cultural context. They may be used during men's initiation ceremonies.
Back to Ramu River Map

SEE ALSO:
Internal Links
Books
Symbolic Meaning in Kominimung Masks by Dirk Smidt, pp. 510-522, article on Goam (Guam) River masks in
Sepik Heritage, Tradition and Change in Papua New Guinea
published by the Carolina Academic Press, 1990, ISBN 0-89089-322-5

Diary entry, 1997: Ramu and Minias carvings
Very few artifact buyers go up the Ramu River since not much is available and it's a hard, expensive trip. We found that the villages only roughly colored their carvings black with lots of raw, white wood left showing.

A local expat buyer with PNG citizenship, Martin Borkent, buys most of these carvings and has his own men complete the color. Having the carvers leave their work unfinished means that other buyers won't cut into his supply.

Ron watched the men one day in Madang. They sat under the shade of the frangipani trees chewing betel nut (buai). They blew the red spittle on the carvings, let it dry and then rubbed the color in with their hands to create a patina. This spitting is actually a traditional form of ritual activity in New Guinea and in a ceremonial context increases the power of the carving.

Some statues are further decorated with feathers and other bits in the shops in Port Moresby. The Sepiks also carve the more popular Ramu styles.

In 1997, a group of men from Minias came into Angoram when they heard we were buying on the Sepik. They worked all night in a relative's house to finish the color on their figures so that we would buy them.

Fine Ramu and Minias-style carvings made by another expat with PNG citizenship, Jeff Liversedge, are sometimes sold in small bilums decorated with dog teeth as old, rare sorcerer's magic charms.

Jeff is one of the best carvers in PNG and his work is worth the price on its own merits. He doesn't misrepresent his carvings to buyers, but others do. He has also made stone carvings based on prehistoric styles and creates beautiful crocodile tooth and pearl shell filigree jewelry.
Back to Ramu River Map
buy New Guinea art from JungleOutpost.com and from NewGuineaArt.com
More articles/photos of NEW GUINEA MASKS:
Order now: Art Dealer in the Last Unknown, Ron Perry and New Guinea Art, the early years: 1964 - 1973 by Carolyn Leigh and Ron Perry, 320 pages of adventure, over 450 early photographs - join Ron in the jungles of New Guinea on his search for tribal art.
Browse OCEANIC ART:
INDONESIAN ART:
CHINA: BAI TEXTILES/ART:
Collecting New Guinea art in the field since 1964.

https://www.art-pacific.com/artifacts/nuguinea/ramu/rivermid.htm | Contact Us | Art-Pacific at https://www.art-pacific.com/
Artifacts on this site were collected in the field by my husband, Ron Perry. I take the photographs, do the html, text and maps. Background in Who We Are. Art-Pacific has been on the WWW since 1996. We hope you enjoy our New Guinea tribal art and Indonesian folk art as much as we do.
Art-Pacific.com by Carolyn Leigh is licensed under Creative Commons CC BY-ND 4.0