Art-Pacific Home | Site map | Guide to Artifacts > New Guinea Artifacts > Guide to Sepik River Carvings > Kamindimbit Village
Art-Pacific (Carolyn Leigh - Ron Perry): Guide to Artifacts
Kamindimbit Village, East Sepik Province, Papua New Guinea
buy New Guinea figures from JungleOutpost.com and NewGuineaArt.com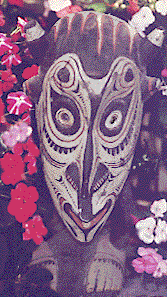 Kamindimbit statues are bold, their details emphasized with yellow ochre, red clays and white lime. They remind me of European gargoyles.

The tumbuna (ancestor) figure shown here among the flowers at Black Hills Reptile Gardens - Jungle Outpost Gallery, Rapid City, South Dakota, USA is a water masali (spirit) that lives in the barets (small channels) somewhere between Kamindimbit and Timbunke. Masali spirits are capable of all sorts of tricks and trouble, especially at night.
buy New Guinea art from JungleOutpost.com and NewGuineaArt.com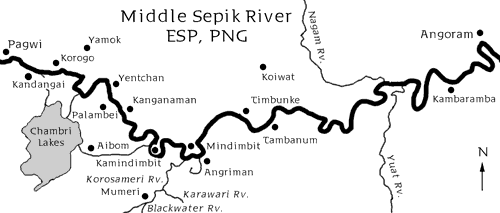 Order now: Art Dealer in the Last Unknown, Ron Perry and New Guinea Art, the early years: 1964 - 1973 by Carolyn Leigh and Ron Perry, 320 pages of adventure, over 450 early photographs - join Ron in the jungles of New Guinea on his search for tribal art.
Browse OCEANIC ART:
INDONESIAN ART:
CHINA: BAI TEXTILES/ART:
Collecting New Guinea art in the field since 1964.

Contact Us | Art-Pacific at https://www.art-pacific.com/

Artifacts on this site were collected in the field by my husband, Ron Perry. I take the photographs, do the html, text and maps. Background in Who We Are. Art-Pacific has been on the WWW since 1996. We hope you enjoy our New Guinea tribal art and Indonesian folk art as much as we do.

Art-Pacific.com by Carolyn Leigh is licensed under Creative Commons CC BY-ND 4.0