>Art-Pacific Home | Site map | Guide to Artifacts > New Guinea Artifacts > Guide to Sepik River Carvings > Ambunti Mountains (Waskuk Hills)
Art-Pacific (Carolyn Leigh - Ron Perry): Guide to Artifacts
Ambunti Mountains (Waskuk Hills), East Sepik Province, Papua New Guinea
buy New Guinea art from JungleOutpost.com and NewGuineaArt.com


Different cultural groups inhabit the Upper Sepik and its tributaries. Many live in scattered settlements with limited material culture. Some, like the Hunstein, carve a variation of the Sepik-Ramu concentric hook figures and masks. Others, like the Swagup Village carvers, developed a distinct style.
Figure 1: Hand drum (kundu) from Swagup Village.
Yam ceremony figures from the Kwoma and the Nukuma in the Ambunti Mountains (Waskuk Hills) are the best known. Both are yam-based cultures, unlike the sago-based cultures of the Middle Sepik. The annual yam cycle uses three terms to refer to the complex rituals and to the objects and social groups associated with them. Yina, Mindja and Nogwi carvings are linked with their respective ceremonies which take place in the Haus Tambarans after the yam harvest. Pottery with similar motifs is also made for use during these rituals.
Figure 2: The Mindja are often displayed in pairs during the harvest ceremonies. The looped area below the face represents spears or snakes.

Figure 3: The Yena (Yina) face represents a male or female spirit. It has a mounting stake.

Figure 4: The Nogwi figure represents a powerful female spirit in the final, most scared of the three ceremonies held after the yam harvest.
See also: Upper Sepik River Shields in our Guide to Artifacts
buy New Guinea art from JungleOutpost.com and NewGuineaArt.com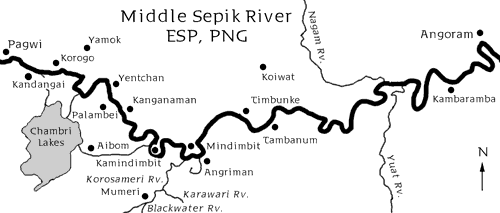 Order now: Art Dealer in the Last Unknown, Ron Perry and New Guinea Art, the early years: 1964 - 1973 by Carolyn Leigh and Ron Perry, 320 pages of adventure, over 450 early photographs - join Ron in the jungles of New Guinea on his search for tribal art.
Browse OCEANIC ART:
INDONESIAN ART:
CHINA: BAI TEXTILES/ART:
Collecting New Guinea art in the field since 1964.

https://www.art-pacific.com/artifacts/nuguinea/sepikriv/sepikupp/waskuk.htm | Contact Us | Art-Pacific at https://www.art-pacific.com/
Artifacts on this site were collected in the field by my husband, Ron Perry. I take the photographs, do the html, text and maps. Background in Who We Are. Art-Pacific has been on the WWW since 1996. We hope you enjoy our New Guinea tribal art and Indonesian folk art as much as we do.
Art-Pacific.com by Carolyn Leigh is licensed under Creative Commons CC BY-ND 4.0