Art-Pacific Home | Site map | Guide to Artifacts | Dealers and Galleries > Wholesale Information for Dealers

Art-Pacific (Carolyn Leigh - Ron Perry)

Wholesale Information for Dealers

For galleries:

We have exciting pieces in all price ranges.

For museums:

We have comprehensive collections of ethnographic material collected in the field from 1964 to the present.

For the serious private collector:

If you are interested in building an extensive collection, we provide advice and in-depth access to a unique variety of artifacts.
Take a look at the photographs in our Guide to Artifacts for a general idea of our inventory.
Exhibition calendar: buy direct from us during the Tucson Gem and Mineral Show more info
Buy New Guinea art online from our partners year round at NewGuineaArt.com - email Lynda Mitchell at Lynda-outpost@newguineaart.com
We are happy to meet with you and show the inventory in our warehouses. The size and variety make it impractical to send photos or to publish a catalog.
Contact us for an appointment.
aznewguinea at gmail.com

We only send photos, do consignment and provide links on our site for established customers.
We do not carry accounts. We accept payment in cash, traveler's checks or cashier's checks in US Dollars in advance of shipping.
Packing is our expense; the shipping and any insurance are yours.
We do NOT open unsolicited attachments including gifs and jpeg photos. Please contact us BEFORE sending attachments, thanks. (We will NOT reply to people who ignore this warning!)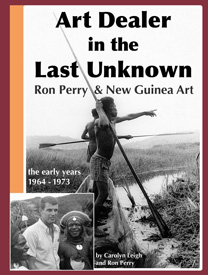 Sorry, but we are not staffed to do appraisals.
Thanks for your interest,
Ron Perry, Carolyn Leigh and Doug Mehaffey
P.O. Box 85284
Tucson, Arizona 85754-5284 USA
Doug Mehaffey - art and artifact restoration services
dgmehaf at gmail.com for further information.
Order now: Art Dealer in the Last Unknown, Ron Perry and New Guinea Art, the early years: 1964 - 1973 by Carolyn Leigh and Ron Perry, 320 pages of adventure, over 450 early photographs - join Ron in the jungles of New Guinea on his search for tribal art.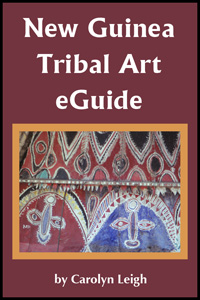 New Guinea Tribal Art eGuide
by Carolyn Leigh with Ron Perry and Doug Mehaffey

Find out about your fabulous piece of New Guinea tribal art. The eGuide provides quick info about New Guinea art and art areas with links to more information. The eGuide contains over 130 photographs and 10 maps, plus adventure photos from Ron's explorations in New Guinea.

Buy now from Amazon or from the Apple Store through iTunes for all your electronic book readers - only $3.99.




Browse OCEANIC ART:


INDONESIAN ART:
CHINA: BAI TEXTILES/ART: