Art-Pacific home | Site map | Guide to artifacts > New Guinea artifacts > Asmat Art
Art-Pacific (Carolyn Leigh - Ron Perry): Guide to Artifacts
Asmat Art - West Papua/Irian Jaya, Indonesia

Figure 1: Asmat war shield collected in Sawa-Erma Villages. The head section is filigreed into two ancestor figures. The largest designs on the body are bipane, shell nosepiece motifs, the smaller ones include cuscus tails and two ancestor figures on the right top and bottom.
Asmat Shields: article and photos of Asmat shields from the major design areas.
SEE ALSO:
Links in this site:
Books
Asmat Art, Woodcarvings of Southwest New Guinea, edited by Dirk Smidt, Periplus Editions and the Rijksmuseum voor Volkenkunde, Leiden, 1993. The best choice if you want one book on the Asmat.

Asmat Images, by Tobias Schneebaum, Pendragon Press, NY for the Crosier Missions, 1985. Line drawings by Schneebaum, black and white photos with text in both English and Bahasa Indonesian from the local collection of the Asmat Museum of Culture and Progress in Agats, Papua/Irian Jaya, Indonesia.

ASMAT, Myth and Ritual, the Inspiration of Art, edited by Gunter and Ursula Konrad, Erizzo Editrice, Venezia, 1995. Published in both German and English editions. Numerous contemporary color photographs of life and ritual in the Asmat.

ASMAT, Perception of Life in Art, the Collection of the Asmat Museum of Culture and Progress
Edited by Ursula Konrad, Alphonse Sowada and Gunter Konrad, published in German (ISBN 3-87448-227-8), English (ISBN 3-87448-229-4) and Indonesian editions (ISBN 3-87448-228-6), 2002, by K. Kühlen Verlag GmbH & Co. KG, Mönchengladbach, Germany, © copyright Asmat Museum of Culture and Progress, Agats, Papua, Indonesia.
Excellent hardcover, essays on the Asmat and their art in their own context and in the world context, defining of 12 major Asmat groups, color photographs of the collection and of the Asmat people, maps.


The Asmat, the Michael C. Rockefeller Expeditions, the Museum of Primitive Art, NY. The Rockefeller collections from Michael Rockefeller's two trips during 1961, including field photos and documentation.

Chez Les Asmat, Papous de nouvelle-Guinée Occidentale Irian Jaya, by Paul Simpelaere, photographs by Roi Léopold III de Belgique. Published by Fonds Léopold III our l'Exploration et la conservation de la Nature, 1983, ISBN 90-209-1094-9. History, culture and art of the Asmat from Simpelaere's 1973 expedition. Text in French.

Head Hunters of Papua, by Tony Saulnier. Crown Publishers Inc. NY, 1963. Expedition into what was then Netherlands New Guinea, now the Indonesian province of Irian Jaya.

Missionary and Anthropologist, Bishop Alphonse A. Sowada's Life Among the Asmat People, edited and introduced by Ursula Konrad and Nick Stanley. Crosier Fathers and Brothers, 2017. Bishop Sowada embraced the Asmat and their culture while working tirelessly to integrate them on their own terms into Christianity and the broader world. After the Preface and Introduction, the text is from his own diaries and letters. The editors truly capture his 40 years of loving, tireless work in the demanding jungle homeland of the Asmat people.

Rocky Goes West, by Paul Toohey, Duffy & Snellgrove, PO Box 177, Potts Point, NSW, Australia, 1997. One of the few books on Rockefeller's disappearance that we would recommend.

Where the Spirits Dwell, an Odyssey in the Jungle of New Guinea, by Tobias Schneebaum, Grove Press, NY, 1988. Interesting, funny and honest account of Schneebaum's love for the Asmat people and their artistic culture.
Figure 2: Art areas of Melanesia (map of New Guinea and adjacent islands), The Asmat and their neighbors, the Marind-anim, the Mimika and related tribes are at 14. Link to the article for explanation of other numbered areas.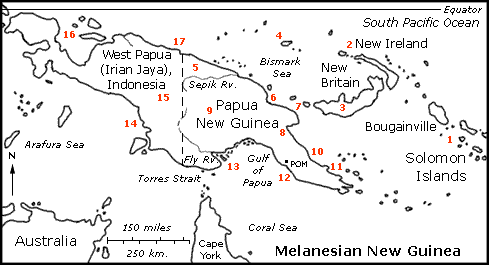 Order now: Art Dealer in the Last Unknown, Ron Perry and New Guinea Art, the early years: 1964 - 1973 by Carolyn Leigh and Ron Perry, 320 pages of adventure, over 450 early photographs - join Ron in the jungles of New Guinea on his search for tribal art.
Browse OCEANIC ART:
INDONESIAN ART:
CHINA: BAI TEXTILES/ART:
Collecting New Guinea art in the field since 1964.

https://www.art-pacific.com/apbklist.htm | Contact Us | Art-Pacific at https://www.art-pacific.com/
Artifacts on this site were collected in the field by my husband, Ron Perry. I take the photographs, do the html, text and maps. Background in Who We Are. Art-Pacific has been on the WWW since 1996. We hope you enjoy our New Guinea tribal art and Indonesian folk art as much as we do.
Art-Pacific.com by Carolyn Leigh is licensed under Creative Commons CC BY-ND 4.0