Art-Pacific Home | Site map | Guide to Artifacts > New Guinea Artifacts > Guide to Sepik River Carvings > Koiwat and Kamangauwi Villages
Art-Pacific (Carolyn Leigh - Ron Perry): Guide to Artifacts
Koiwat and Kamangauwi Villages, East Sepik Province, Papua New Guinea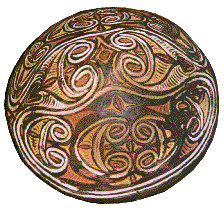 Figure 1:Incised sago bowl with color added after firing. The decoration is on the underside of the bowls while the inside is smooth.
Koiwat and Kamangauwi Villages make this distinctive style of incised pottery. They are one of the small groups of villages located along the narrow rivers and sago swamp patches that meander through the low kunai grass hills of the Sepik plain. The kunai areas are called the Grass Country. Koiwat and Kamangauwi are in the plains back from the river villages of Timbunke and Tambanum. They trade their pottery down to Tambanum Village and from there it is traded all along the Sepik River.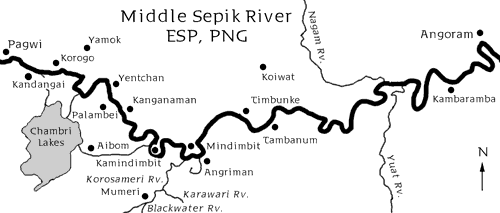 Order now: Art Dealer in the Last Unknown, Ron Perry and New Guinea Art, the early years: 1964 - 1973 by Carolyn Leigh and Ron Perry, 320 pages of adventure, over 450 early photographs - join Ron in the jungles of New Guinea on his search for tribal art.
Browse OCEANIC ART:
INDONESIAN ART:
CHINA: BAI TEXTILES/ART:
Collecting New Guinea art in the field since 1964.

https://www.art-pacific.com/artifacts/nuguinea/sepikriv/sepikmid/koiwat.htm | Contact Us | Art-Pacific at https://www.art-pacific.com/
Artifacts on this site were collected in the field by my husband, Ron Perry. I take the photographs, do the html, text and maps. Background in Who We Are. Art-Pacific has been on the WWW since 1996. We hope you enjoy our New Guinea tribal art and Indonesian folk art as much as we do.
Art-Pacific.com by Carolyn Leigh is licensed under Creative Commons CC BY-ND 4.0