Art-Pacific home | Site map | Guide to Artifacts > China: Bai Artifacts > Bai Minority Group Hats
Art-Pacific (Carolyn Leigh - Ron Perry): Guide to Artifacts
Bai Minority Group Hats from Yunnan Province, China
Bai women are excellent embroiderers and proudly wear their traditional clothing. A baby girl wears colorful clothes made by her mother and grandmother including a fishtail-shaped cap, or a phoenix-head or lion-head cap.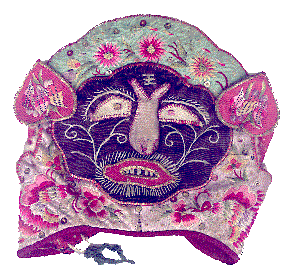 The Bai people say, "A horse needs a saddle to look good; people need beautiful clothes." (from Daughters of Mount Changshan and Erhai Lake, The Bais, by Yang Guocai)
More photographs and information on Bai hats
Browse China: Bai textiles/art: Bai baby-carriers | Bai hats | Bai woodblock prints
Browse OCEANIC ART:
INDONESIAN ART:
CHINA: BAI TEXTILES/ART:
Art-Pacific Home | Site map | top of page
Collecting New Guinea art in the field since 1964.

https://www.art-pacific.com/baihatsc.htm | Contact Us | Art-Pacific at https://www.art-pacific.com/
Artifacts on this site were collected in the field by my husband, Ron Perry. I take the photographs, do the html, text and maps. Background in Who We Are. Art-Pacific has been on the WWW since 1996. We hope you enjoy our New Guinea tribal art and Indonesian folk art as much as we do.
Art-Pacific.com by Carolyn Leigh is licensed under Creative Commons CC BY-ND 4.0