Art-Pacific home | Site map | Guide to artifacts > New Guinea artifacts > >BILAS > Tooth and Bone
Art-Pacific (Carolyn Leigh - Ron Perry): Guide to Artifacts
Tooth and Bone
buy traditional jewelry from JungleOutpost.com and NewGuineaArt.com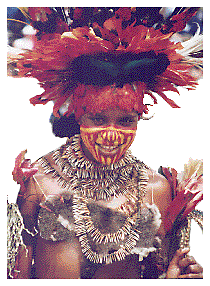 Goroka Show Princess contestant wearing multiple dog tooth necklaces.
Dog teeth, flying fox teeth, crocodile teeth, porpoise teeth, pig's tusks and teeth, all are used for jewelry in New Guinea. Dog teeth were so valuable during the colonial period that the Germans manufactured porcelain dog teeth in Europe and imported them to New Guinea before WW1 for bartering. Strings of dog teeth are part of a family's wealth and are worn for special occasions.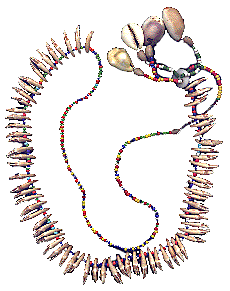 Double strand necklace of flying fox teeth and trade store glass beads.
The flying fox (blakbokis or fruit bat) necklace is from the grass country between Wewak and the Sepik River. A gap is cut in the tree line along a ridge to make a shortcut for the bats as they return from their nightly fruit foraging. After a few nights, a net is hung between the trees to trap them. The bats are eaten and their delicate teeth are saved for necklaces and strung with alternating trade store beads for color.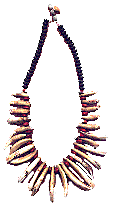 Single strand necklace of pig tusks, dog and crocodile teeth, and seeds. This pig tusk, dog and crocodile tooth necklace was made on the Sepik River for trade in the Angoram Haus Tambaran.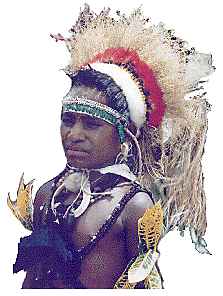 Young boy with pig tusk and bird of paradise necklace. Green beetles decorate the headband. Croton leaves are stuck in his armbands and dried grasses add to his feather headdress.
Pigs are one of a man's most valuable items in terms of status. Bride price, payback, any ceremonial occasion demands partial payment in pigs. Large pigs with tusks that curve back to form complete circles show wealth. The tusks are saved and used for necklaces and nose pieces. Many of the dancers, like the young boy in this photo, have pig tusks as part of their jewelry.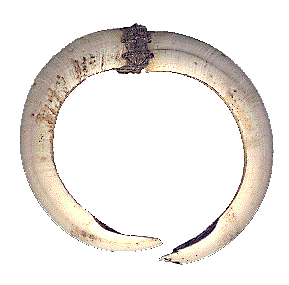 Pig tusk nose piece with bilum string binding.
Bone, sometimes a deceased relative's or an enemy's bones, are worn as a remembrance and as a way to attract their spiritual power. Among some of the Highland people, smoked human fingers and hands were worn on necklaces.
Bracelet ornamented with small bones.
BILAS | Shells are Gold | String and Things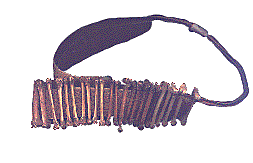 buy traditional jewelry from JungleOutpost.com and from NewGuineaArt.com
Order now: Art Dealer in the Last Unknown, Ron Perry and New Guinea Art, the early years: 1964 - 1973 by Carolyn Leigh and Ron Perry, 320 pages of adventure, over 450 early photographs - join Ron in the jungles of New Guinea on his search for tribal art.
Browse OCEANIC ART:
INDONESIAN ART:
CHINA: BAI TEXTILES/ART:
Collecting New Guinea art in the field since 1964.
Art-Pacific Home | Site map | top of page

https://www.art-pacific.com/artifacts/nuguinea/bilas/traditional/tooth.htm | Contact Us | Art-Pacific at https://www.art-pacific.com/
Artifacts on this site were collected in the field by my husband, Ron Perry. I take the photographs, do the html, text and maps. Background in Who We Are. Art-Pacific has been on the WWW since 1996. We hope you enjoy our New Guinea tribal art and Indonesian folk art as much as we do.
Art-Pacific.com by Carolyn Leigh is licensed under Creative Commons CC BY-ND 4.0