Art-Pacific home | Site map | Guide to artifacts > New Guinea artifacts > BILAS > Shells are Gold
Art-Pacific (Carolyn Leigh - Ron Perry): Guide to Artifacts
Shells are Gold
buy traditional jewelry from JungleOutpost.com and from NewGuineaArt.com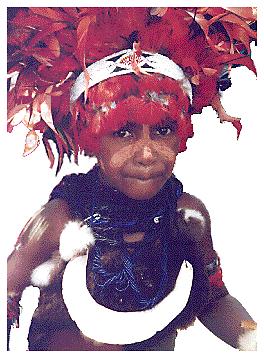 Boy wearing kina shell necklace. Glass or plastic trade beads are used in his headband and for his multi-strand necklaces.
When the Leahy brothers came into the Highlands searching for gold, they found people who valued the gold-lipped pearl shell as much as the miners valued gold. Shells are valuable all over New Guinea, but especially so in the Highlands where the traditional trading contacts between tribes slowly passed shells from ocean to mountain valley.
The mountain people had no concept of the sea, but they wanted the rare, glowing shells. After contact, the Leahys and others flew in thousands of shells to pay their laborers.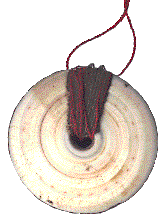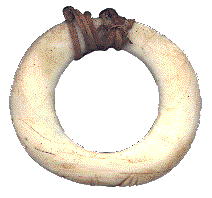 The Papua New Guinea currency equivalent of the dollar is called the kina, but shells are still used in traditional ceremonial payments.
(left) Another traditional unit of shell currency is the toea like the one used in this shell pendant. The Papua New Guinea coins were named after these disks. 100 toea coins equal one kina in the PNG currency.
(right) Large shell money ring from the Maprik area, East Sepik Province.

The Papua New Guinea kina coin has a hole like the shell disks, so they may be strung together. (These metal kinas were later discontinued.) Shell disks are cut with bamboo drills.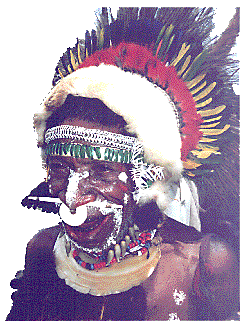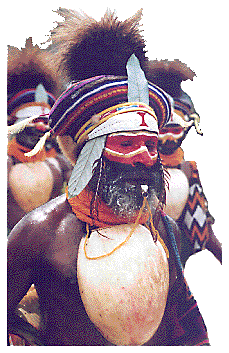 (left) Many other types of shells are used for bilas such as the bailer shell worn by this Mt. Hagen Big Man. This shell was used in the coastal villages to bail water out of canoes.
(right) Highland Big Man with kina shell necklace, green beetle and geri geri shell headband, shell and bone nose pieces.
BILAS | Shells are Gold | Tooth and Bone | String and Things
See also: Note on shell money and Cut shell disks
buy traditional jewelry from JungleOutpost.com and from NewGuineaArt.com
Order now: Art Dealer in the Last Unknown, Ron Perry and New Guinea Art, the early years: 1964 - 1973 by Carolyn Leigh and Ron Perry, 320 pages of adventure, over 450 early photographs - join Ron in the jungles of New Guinea on his search for tribal art.
Browse OCEANIC ART:
INDONESIAN ART:
CHINA: BAI TEXTILES/ART:
Collecting New Guinea art in the field since 1964.
Art-Pacific Home | Site map | top of page

https://www.art-pacific.com/artifacts/nuguinea/bilas/traditional/shells.htm | Contact Us | Art-Pacific at https://www.art-pacific.com/
Artifacts on this site were collected in the field by my husband, Ron Perry. I take the photographs, do the html, text and maps. Background in Who We Are. Art-Pacific has been on the WWW since 1996. We hope you enjoy our New Guinea tribal art and Indonesian folk art as much as we do.
Art-Pacific.com by Carolyn Leigh is licensed under Creative Commons CC BY-ND 4.0