Art-Pacific home | Site map | Guide to artifacts > New Guinea artifacts > New Guinea Weapons > Spears and Atlatls
Art-Pacific (Carolyn Leigh - Ron Perry): Guide to Artifacts
Spears and Atlatls, New Guinea Weapons
buy New Guinea art from JungleOutpost.com and NewGuineaArt.com
Figure 1: Three spear heads, the shafts are 6 to 8 feet long (2 to 2.5 meters).
The top spear is from the Middle Sepik River basin, ESP, PNG. The wood point is bound into a bamboo shaft. The pig (?) vertebrae adds weight and balance. This type of spear could be launched with an atlatl (spear thrower) to extend its range.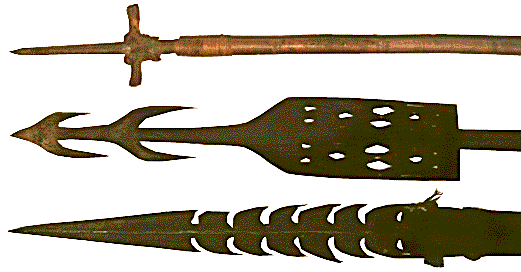 The middle spear is from the Asmat area of Irian Jaya, Indonesia. The elaborate filigree head and body are carved from one piece of palm. The top (not shown) is carefully wrapped with bush string and hung with long feather tassels.
The bottom spear with its stepped prongs was purchased from an old Big Man in the Blackwater River Camp in Wewak, ESP, PNG. We used see him most mornings walking along the Boram Bay road wearing his pig tusk necklace. The spear is made from a single piece of black palm. The other end of the shaft (not shown) is carved with an ancestor or clan head. It was probably used for pig hunting.

Figure 2: Two spear throwers from the Blackwater River, ESP, PNG. The left thumb guide shows a fight between two black killer cockatoos. The right one is a shrimp.
Hunting spears (spia in tok pisin) and atlatls (spear throwers) are still made and used everyday in New Guinea. We were buying artifacts on a hot, muddy bar on the Blackwater River in 1997. In the distance, across the mile or so of mud flat that separates the village from the river in the dry season, a man practiced with his spears and atlatl. His small sons chased after the spears and brought them back.
A spear is fitted into the hollow shaft of the bamboo atlatl. The thumb guide holds the spear in place until it is thrown. The atlatl acts like an extension of the man's arm when he throws and catapults the spear for a much greater distance with a stronger force. The spear throwers are about 2 to 3+ feet long (60 to 100 cm). The thumb guides can be quite elaborately decorated with totemic clan motifs.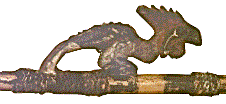 Figure 3: Detail of spear thrower thumb guide in the shape of a rooster from the Blackwater River, ESP, PNG.
Spears and spearheads are often made from the heart of the black palm tree. This wood is strong, yet flexible. The most common style is a long piece of wood tapered to a single, sharp point. Length is around 6 to 8 feet (2 to 2.5 meters). The shafts are usually decorated in some way ranging from simple painted stripes to elaborately carved clan figures with complex string and human hair wrappings and feather tassels. Spears used for war or for ceremony are meant to intimidate the enemy, human or spiritual, just by their sheer flamboyance.
Figure 4: Mt. Hagen warrior with barbed spear, Mt. Hagen Show, PNG.
Hunting parties of men armed with spears go into the jungle with their dogs and nets after wild pig. Ducks are speared in the round water lakes with the aid of atlatls. Game is also hunted with shotguns. There are usually a few men in each village with gun permits, but it's difficult to buy shells, so every shell is precious. Three-pronged spears are used for fish. Spears are also used in raids against enemy villages.
A few years ago our friend, Lesley Martin, was driving back into Wewak on the Maprik Road. It's a rutted, jungle road for most of the way with some steep hills. She was just starting the pickup truck up one of these hills when she noticed a man at the top. He turned deliberately so that she could see that he held a shotgun.
She put her foot on the gas and yelled to her men in the back, "Duck!" They looked up the hill and yelled back to her, "No misis, no duck, gun!"
Luckily, the man didn't shoot. He may not have even had any shells, but hoped that he could bluff someone into stopping.
It's the same area where some men tried to steal spears as we pulled away by putting their hands on the shafts sticking out the back and letting the truck do the work. When Ron caught them, they just let go, shrugged their shoulders and grinned, "Traim, tasol." (Try, that's all.)

Figure 5: Contemporary New Guinea Highlands shield with eagle clutching crossed barbed spears.
New Guinea Weapons toc: Previous | Next Bone knives and bone daggers
buy New Guinea art from JungleOutpost.com and from NewGuineaArt.com
Order now: Art Dealer in the Last Unknown, Ron Perry and New Guinea Art, the early years: 1964 - 1973 by Carolyn Leigh and Ron Perry, 320 pages of adventure, over 450 early photographs - join Ron in the jungles of New Guinea on his search for tribal art.
Browse OCEANIC ART:
INDONESIAN ART:
CHINA: BAI TEXTILES/ART::
Collecting New Guinea art in the field since 1964.

https://www.art-pacific.com/artifacts/nuguinea/weapons/spearatl.htm | Contact Us | Art-Pacific at https://www.art-pacific.com/
Artifacts on this site were collected in the field by my husband, Ron Perry. I take the photographs, do the html, text and maps. Background in Who We Are. Art-Pacific has been on the WWW since 1996. We hope you enjoy our New Guinea tribal art and Indonesian folk art as much as we do.
Art-Pacific.com by Carolyn Leigh is licensed under Creative Commons CC BY-ND 4.0