Art-Pacific home | Site map | Guide to artifacts > New Guinea artifacts > Papuan Gulf Map > Angu (Kukukuku)
Art-Pacific (Carolyn Leigh - Ron Perry): Guide to Artifacts
The Angu (Kukukuku), Papua New Guinea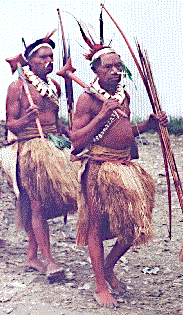 The Angu, called Kukukuku by their neighbors, are a small, but fierce people, previously known for their murderous surprise raids on other groups' villages.(1) They live in very remote mountainous country back of the Papuan Gulf. Until relatively recently much of their territory was a long walk from all except a few mission air strips. (map)
There are hundreds of small tribal groups in New Guinea. The Angu are well known because they had such a fearful reputation and a memorable nickname. They are known for their distinctive stone clubs.
Figure 1: Angu warriors carrying two of their star-shaped stone clubs at the 1997 Mt. Hagen Show. (from Axes and Clubs)
Archery contests are part of the various culture shows like the Mt. Hagen and Goroka Shows in Papua New Guinea. In the late 1970s, the Angu were awarded a cow as the grand prize. This cow was for breeding stock, but Angu territory was a week's walk away over rugged mountains and rushing rivers.
So they did the logical thing. They butchered the cow and ate it that night in the motor pool compound where they were camped. They were locked in the compound at night, because the other show participants were afraid of them. (from Bows and Arrows)
Figure 2: Angu necklace. The tassels are made of human hair braided over with bilum string and yellow orchid vine fiber. The center ornament is a possum ball. (from String and Things)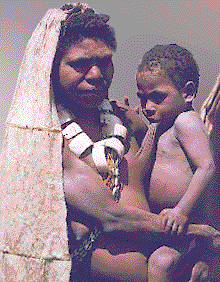 Figure 3: Mother with her child at the Mt. Hagen Show. She wears a bark cloth (tapa) cape and cut shell necklace. Copyright Scott Perry, 1997.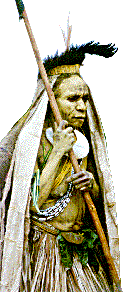 Thick, light colored clays are used all over New Guinea to indicate mourning and death. Deceased ancestors and bush spirits are part of most New Guinea peoples day-to-day, if unseen, world. The Leahys were first assumed to be returning ancestors by the Highland peoples because of their white skin.
Figure 4: This Angu woman, her body and face coated in yellow clay, is part of a performance group, but yellow and whitish clays are still commonly used by people mourning the death of a close relative. Heavy, multiple strands of coix seeds (Job's tears) are worn in some areas with the strands removed one at a time until the mourning period is finished. (from Skin as Ground...)
SEE ALSO:
Links in this site:
Notes
(1) Alternate spellings and terms for:

Angu: Anga, Kukukuku, Kuku Kuku
Map of the Papuan Gulf, Papua New Guinea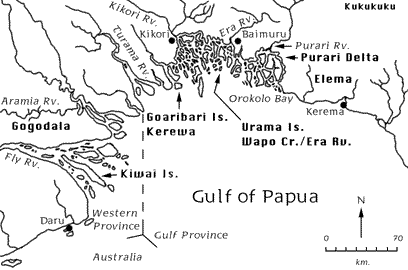 Diary entry, 1974: Trek from Kainantu to Marawaka with 130 Angu warriors.
Copyright Carolyn Leigh, 2000. All rights reserved.
The Australian government flew 130 Angu (Kukukuku) warriors along with their kiap (patrol officer), Trevor Bussing, to the 1974 Goroka Show to perform. The warriors flew out 14 at a time in Twin Otters from Marawaka. This was the last patrol post and cornice-gravel airstrip before starting down out of the mountains to the Papuan Gulf.

The Angu won the archery contest. They butchered their prize cow and gave the hind quarter to Trevor. They cooked and ate the rest that night in the motor pool compound where they were locked in because the other show participants were afraid of them.

Ron and his cousin, Freddy Croxen, were at the show, staying at the high school which had been turned into a dormitory for the event. Ron and another friend, Morris Young, were buying artifacts. Morris bought a whole truck load of Bainings fire dance masks and other headdresses.

Trevor was going somewhere else after the show, so he got to fly in later, but the Angu had to walk back. At that time it was difficult to get a government permit to go into Angu territory because there were no accommodations. Trevor said it was okay if Ron used his house, so he and Freddy got permission to walk back with the warriors. The only other expats at Marawaka were a German Lutheran missionary couple with their two little girls.

The government trucked everyone from Goroka to Kainantu in 2 or 3 big dump trucks. They walked on to Obura where the road ended. Marawaka was about 35 miles (50 km) further on bush tracks. That first day they walked to a village and slept overnight in grass huts.




The second day, they walked to Wonenara in the Kratki Range. Most of the trek was over open rolling hills, but they had to go down a steep canyon to collect drinking water in lengths of bamboo. They arrived in early afternoon. The people fed them kaukau (sweet potato). Ron and Freddy slept in their clothes on the concrete floor of a small tin shed.

Ron had blisters, so someone brought him a bucket of warm water. People started bringing in things to sell. The Angu men sat and bargained with him while he soaked his feet.

The people wore necklaces or bracelets decorated with cowry shells which were quite valuable that far from the coast. More unusual were their human finger necklaces. These were usually the smoked remains of deceased relatives worn in their memory. One man wore a necklace with the breastbone of his dead wife. There were also belts made from human leg bones. One necklace had the complete smoked hand of a baby.

A lot of the jewelry included small tufted balls of fur. Ron kept asking what they were. It seemed as if the men were saying cuscus (possum) something, but he couldn't quite get what they meant.

One wrinkled old warrior sitting nearby was really disgusted that Ron couldn't understand what they were telling him. Finally, he reached under his laplap, pulled out his balls and said "Lukim, olsem long dispela." (Look here, it's all the same as this fellow, i.e. the little furry balls were possum testicles.)




The third day they started out around 5 A.M., because beyond Wonenara there were no camp sites and little water. They walked two hours along a narrow track through dark forests of tall trees hung with thick moss. Beyond that the trail climbed up into steep mountains.

They stopped to fill 3 foot (1 meter) lengths of bamboo from a white water stream. The Angu cut the bamboo from a nearby grove. Every man had to carry 2 lengths.

It took the rest of the day to clamber to the top of the range. The dim track threaded through dense forest with slippery logs fallen across the track. The Angu didn't like the place, they considered it a masali place, a place of bad spirits.

Near the top there was a small seep where they refilled their bamboos. About 4:30 or 5 P.M. they came out to a high overlook around 8,000 ft. (2,700 m) and looked down to the Marawaka airstrip at 2-3,000 ft. (1,000 m). It took another 3 hours to climb down to the patrol post where they stayed for 5 or 6 days.

The people brought in food for them to buy. One father came with his little daughter, about 6 years old. She carried 30 lbs (13.6 kilos) of bananas on her head. After Ron paid the father for his bananas, the man asked for a cigarette and the little girl wanted one, too.

When Ron and Freddy would walk out to settlements just beyond the end of the airstrip, they would hear, "Psst-psst, yu laik baim sampela samting?" (You like to buy something?) A man would step out furtively with something wrapped in a dirty towel. Often it was a smoked human finger necklace. The Angu knew it was illegal to buy them, so they waited in the bushes away from the patrol post to try and sell them.

Ron and Freddy flew out on the government charter that brought Trevor back in. Ron brought out 10 rice bags (these are the size of gunny sacks) full of shell jewelry.
Order now: Art Dealer in the Last Unknown, Ron Perry and New Guinea Art, the early years: 1964 - 1973 by Carolyn Leigh and Ron Perry, 320 pages of adventure, over 450 early photographs - join Ron in the jungles of New Guinea on his search for tribal art.
Browse OCEANIC ART:
INDONESIAN ART:
CHINA: BAI TEXTILES/ART:
Collecting New Guinea art in the field since 1964.

https://www.art-pacific.com/artifacts/nuguinea/papuan/kukukuku.htm | Contact Us | Art-Pacific at https://www.art-pacific.com/
Artifacts on this site were collected in the field by my husband, Ron Perry. I take the photographs, do the html, text and maps. Background in Who We Are. Art-Pacific has been on the WWW since 1996. We hope you enjoy our New Guinea tribal art and Indonesian folk art as much as we do.
Art-Pacific.com by Carolyn Leigh is licensed under Creative Commons CC BY-ND 4.0