Art-Pacific home | Site map | Guide to artifacts > New Guinea artifacts > Abelam Yam Masks and Tops | Yam Lining
Art-Pacific (Carolyn Leigh - Ron Perry): Guide to Artifacts
Yam Lining, East Sepik Province, Papua New Guinea
buy New Guinea yam masks and tumbuans from JungleOutpost.com and NewGuineaArt.com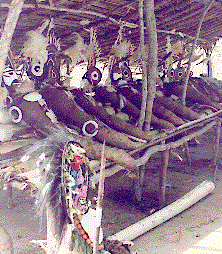 Figure 1: Decorated yams lined on display bed inside the haus wind. Display includes several shell money rings.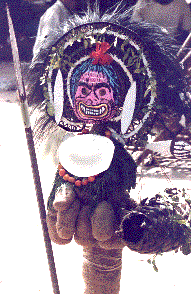 Figure 2: Detail (see Figure 1, lower left corner) of female yam with purchased trade store Halloween mask mounted on a basket yam fan. Additional decoration includes shell jewelry, a spear, red hibiscus, orange fruits and feathers.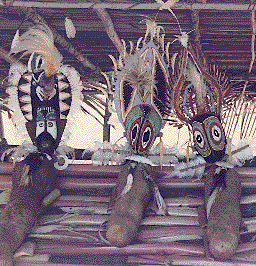 Figure 3: Three brightly decorated male yams on the display bed. The left yam has a wooden yam mask and a top knot of Bird of Paradise feathers, the two right hand ones wear basket masks.
Photos by Ron Perry, mid-1970s, North Abelam area east of Maprik, East Sepik Province, Papua New Guinea .
Back to Abelam Yam Masks and Tops or Abelam Wooden Yam Masks
buy New Guinea yam masks tumbuans from JungleOutpost.com and from NewGuineaArt.com
More articles/photos of NEW GUINEA MASKS:
Order now: Art Dealer in the Last Unknown, Ron Perry and New Guinea Art, the early years: 1964 - 1973 by Carolyn Leigh and Ron Perry, 320 pages of adventure, over 450 early photographs - join Ron in the jungles of New Guinea on his search for tribal art.
Browse OCEANIC ART:
INDONESIAN ART:
CHINA: BAI TEXTILES/ART:
Collecting New Guinea art in the field since 1964.

https://www.art-pacific.com/artifacts/nuguinea/yamline.htm | Contact Us | Art-Pacific at https://www.art-pacific.com/
Artifacts on this site were collected in the field by my husband, Ron Perry. I take the photographs, do the html, text and maps. Background in Who We Are. Art-Pacific has been on the WWW since 1996. We hope you enjoy our New Guinea tribal art and Indonesian folk art as much as we do.
Art-Pacific.com by Carolyn Leigh is licensed under Creative Commons CC BY-ND 4.0