Art-Pacific home | Site map | Guide to artifacts > New Guinea artifacts > New Guinea Shields
Art-Pacific (Carolyn Leigh - Ron Perry): Guide to Artifacts
New Guinea Shields, Papua New Guinea and Papua (Irian Jaya), Indonesia
buy New Guinea art from JungleOutpost.com and NewGuineaArt.com

New Guinea's extremely rugged terrain encouraged the development of many different tribes who constantly competed for control of the best land. Warfare was intermittent, but common until after the World Wars, when the colonial governments began to pacify the island.
Figure 1: Old New Britain shield with cane cross-weaving. This shield is stone carved with the detailing finished with rat tooth and metal tools.
Shields provide defense against weapons which include bows with bone or bamboo-tipped arrows, sharp wooden spears, stone axes and bone knives. Contemporary additions are metal bush knives, steel axes and guns, some homemade or smuggled in the black market drug trade between Australia and New Guinea.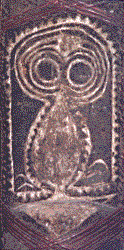 Figure 2: Detail of the New Britain shield figure accented with lime.
Many groups fought primarily by ambushing their opponents in their gardens or in early morning raids on villages. In the Highlands, certain fields were considered fight grounds and opposing tribes and their allies met to even scores or to make temporary truce arrangements. The long bows and arrows used in New Guinea are relatively slow-moving and a quick warrior can dodge and protect himself, especially if the arrows are shot from a distance on the fight field. Multiple arrows shot from ambush and infected wounds are more effective killers.

Figure 3: Back of shield showing cane handle.
Shields come in all sizes from large planks that a bowman or spear thrower can shelter his whole body behind, to smaller breastplate ones. The woods used are generally lightweight like the roots of mangrove trees. Most are single planks, although a New Ireland style uses three narrow planks lashed together. The backs have cane framework handles. Body armor was also common in the West Sepik and Western Provinces in PNG and is still used in the Highlands of Irian Jaya.
Photos of Body Armor

Figure 4: Biwat River shield with two faces and a sawfish (sigak) on the front, topped with small carving of a head.

Figure 5: New Ireland shield made of three panels lashed together with cane.
Designs vary from tribe to tribe. Geometric designs are common in the PNG Highlands. The tribes along the Sepik River and its tributaries typically use clan/ancestor faces and wildlife totems like the bone fish on this Biwat shield. In areas where tribes are at peace, shields are still important and powerful in a ceremonial context.
The war canoes of the river and coastal tribes visually project the physical and spiritual power of the clan and tribe. On the Sepik River and in the Asmat, truly powerful images can defeat an enemy just by being shown. Conversely, these images are dangerous to handle and their rituals have to be strictly observed by the Big Men who are the fight leaders.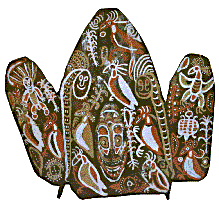 Figure 6: Keram River war canoe shield. These shields are placed in the forehead of the dugout canoe. The arrangement of three bark panels and the central mask is typical.
Next: PNG Highlands Shields | Upper Sepik River Shields | Ramu River Shields | Asmat Shields

Figure 7: Biwat River shield with stylized, geometric motifs.
See also:
Massim: Trobriand Islands and Kula exchange has a photo of a Trobriand Islands shield
Building a Collection and Spears and Atlatls each have a photo of a contemporary Mt. Hagen area shield.
Bone Knives and Bone Daggers shows a Huli warrior wearing a protective bark belt.
New Guinea Weapons for our series on bows and arrows, spears and atatls, axes and clubs and bone daggers.
Natural History Magazine, October 1998, pp. 92-93
Papua New Guinea: Arts and Spirits; Photographs from the Middle Sepik river, 1953-54 from the collection of E. Thomas and Margaret Gilliard. The article includes a good photograph of a Iatmul war canoe with a canoe shield mounted in its prow and some of her drawings of Sepik artifacts.
buy New Guinea art from JungleOutpost.com and from NewGuineaArt.com
Order now: Art Dealer in the Last Unknown, Ron Perry and New Guinea Art, the early years: 1964 - 1973 by Carolyn Leigh and Ron Perry, 320 pages of adventure, over 450 early photographs - join Ron in the jungles of New Guinea on his search for tribal art.
Browse OCEANIC ART:
INDONESIAN ART:
CHINA: BAI TEXTILES/ART:
Collecting New Guinea art in the field since 1964.

https://www.art-pacific.com/artifacts/nuguinea/shields/shieldo.htm | Contact Us | Art-Pacific at https://www.art-pacific.com/
Artifacts on this site were collected in the field by my husband, Ron Perry. I take the photographs, do the html, text and maps. Background in Who We Are. Art-Pacific has been on the WWW since 1996. We hope you enjoy our New Guinea tribal art and Indonesian folk art as much as we do.
Art-Pacific.com by Carolyn Leigh is licensed under Creative Commons CC BY-ND 4.0