Art-Pacific home | Site map | Guide to artifacts > New Guinea artifacts > New Guinea Weapons > Bone Knives and Bone Daggers
Art-Pacific (Carolyn Leigh - Ron Perry): Guide to Artifacts
Bone Knives and Bone Daggers, New Guinea Weapons
buy New Guinea art from JungleOutpost.com and NewGuineaArt.com


Figure 1: Abelam cassowary bone dagger carved with a female clan figure wearing a necklace, from the East Sepik Province, Papua New Guinea.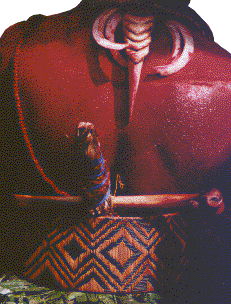 Bone knives and daggers are used for hunting, fighting and for ceremony. Metal knives and bush knives have replaced bone for everyday needs, but bone knives are still made. Interesting bone knives and daggers are found in the Abelam area of the East Sepik Province and the Highlands of Papua New Guinea, and in the Asmat area of Papua (Irian Jaya).
Figure 2: Two bone knives are stuck into this Huli warrior's wide bark belt.
The Iatmul on the middle Sepik River make ceremonial bone or wood daggers topped with clay heads painted with clan designs. Razor sharp, temporary knives are cut from slivers of bamboo to butcher game or other jobs requiring an extremely sharp, renewable edge.
The thigh bone of the cassowary, a large, ostrich-like bird, is the most common bone made into daggers. Cassowary bone daggers are around 15 - 18 inches long (35 - 45 cm). Pig bone is used for smaller knives. Human bone daggers from slain enemies or deceased, powerful relatives are worn by warriors.

Figure 3: Papua New Guinea Highlands bone knife wrapped with fine bilum string. Daggers from the Highlands are not elaborate. They may have simple painted bands or be wrapped with bits of colored string or rag. This type of knife is worn in a woven band on the upper arm. With age, the knives develop a warm, caramel-colored patina like this one.
In the hill villages of the Abelam near Maprik, East Sepik Province, PNG, the daggers are carved with complex and beautiful clan designs. Geometric symbols, figures of birds, usually parrots or hornbills, and ancestor figures, both male and female, add power to the dagger and its owner.

Figure 4: Bone dagger with a parrot carved on the top from the Abelam area, South Wosera, Papua New Guinea.

Figure 5: Cassowary bone dagger with red, cream and black trade store paint used for the bands added over the incised, geometric designs. Collected in the Abelam area, East Sepik Province, Papua New Guinea.
Most people in New Guinea still live in bush villages. Almost everyone owns and routinely carries large metal bush knives. This seems a bit unnerving to outsiders, but it's normal and necessary.
When we drive out of Wewak, a common sight is a family emerging silently from the jungle onto the road. The husband clears the path in front with his bush knife, his dog follows at his heels, the wife walks just behind carrying the baby, bilums of firewood or produce and watching the children in between. They walk along the road for a bit before disappearing back along the almost invisible bush track to their garden or settlement.

Figure 6: Fine old cassowary bone dagger with beautifully carved male figure. The design has remnants of red and blue paint and an ivory colored patina. Collected in the Abelam area of the East Sepik Province, Papua New Guinea.
See also:

Link to Tambanum Village for an example of a Iatmul payback dagger.
Link to New Guinea Weapons for Donna Patania's great photo of Marek wearing a bone knife made from his father's leg bone.
Figure 7: Asmat cassowary bone dagger from Papua (Irian Jaya). The hood is twined bark string. The tassels are made of cassowary feathers, seed and bone.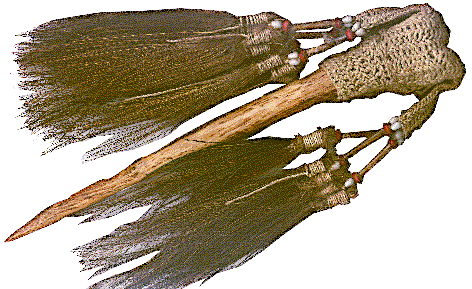 New Guinea Weapons toc: Previous | Next Axes and clubs
buy New Guinea art from JungleOutpost.com and from NewGuineaArt.com
Browse OCEANIC ART:
INDONESIAN ART:
CHINA: BAI TEXTILES/ART:
Collecting New Guinea art in the field since 1964.

https://www.art-pacific.com/apbklist.htm | Contact Us | Art-Pacific at https://www.art-pacific.com/
Artifacts on this site were collected in the field by my husband, Ron Perry. I take the photographs, do the html, text and maps. Background in Who We Are. Art-Pacific has been on the WWW since 1996. We hope you enjoy our New Guinea tribal art and Indonesian folk art as much as we do.
Art-Pacific.com by Carolyn Leigh is licensed under Creative Commons CC BY-ND 4.0