Art-Pacific home | Site map | Guide to artifacts > New Guinea artifacts > Solomon Islands TOC &gt crafts | cutting shell disks | shell money | Solomon Islands jewelry
Art-Pacific (Carolyn Leigh - Ron Perry): Guide to Artifacts
Solomon Islands jewelry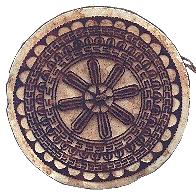 Shell disk ornaments overlaid with filigree turtleshell are typical of the Solomon Islands. (1) Commonly known as kapkaps, they were worn westward to New Ireland and on into the Papuan Gulf in PNG. (2)
Figure 1: Dala kapkap still worn as a head or breast ornament on Malaita and Guadalcanal. The intricate overlay design is cut by hand. All photographs courtesy of a private collection.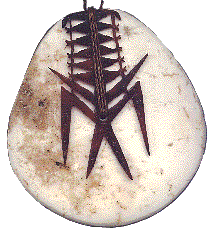 Large Tridacna clamshells and other shells are used as a base. Other round shell ornaments made from white egg cowry (Ovula ovum) are worn as forehead or leg decoration.
Figure 2: Santa Cruz tema kapkap is a full-moon style breast ornament worn at dances. The overlay motif is usually said to represent the distinctive stark outline of a frigate bird, but other interpretations are an ancestor depicted with spine and ribs or a caterpillar that infects banana plants.
Diving frigate birds are important because they show fishermen where schools of bonito (tuna) are. Frigate birds and hornbills dating from about 3000 b.p. are shown in petroglyphs in the Poha Valley cave near Honiara.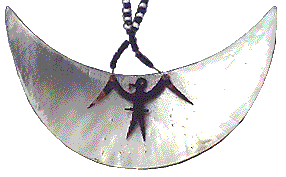 Figure 3: Dafi pearl shell gorget with frigate bird overlay from Malaita Island. Dafi are similar to kina shell jewelry in New Guinea.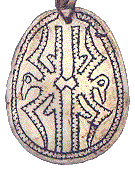 Figure 4: La'oniasi, one of a set of 10 breast ornaments traded down from the Kwaio people in the mountainous center of Malaita. The Kwaio have resisted contact with outsiders except to come out to weekly markets on the coast. They have retained their ancestral beliefs and did not convert to Christianity.
The Kwaio still grind the shell down on a stone. The design is cut with teeth or flint, then stained with black putty nut or ashes or dye from a tree berry. This one is incised with 2 frigate birds.
Other groups make similar kapkap jewelry. Sometimes a fish-headed sea spirit called Tararamanu from the Eastern Solomons is used. They are worn by women and given away at feasts.
Figure 5: Hair ornament comb with a diamond design representing the nut of the lengga tree.

The Kwaio still carve some palm wood combs using only a knife and the wing bone of a flying fox for tools. The wickerwork craft is called boré. Yellow is natural orchid vine, red dye comes from boiling vine in a bamboo container.
Another fiber ornament was a cane belt that is now outlawed. A warrior only wore one when he had been hired for a revenge killing. He couldn't take the belt off until he had killed the victim.

Figure 6: Necklace of fine old reddish cut shell disks with a fragment of pearl shell, a dog tooth and a broken German porcelain "dog tooth". The very thin disks on fine bush string give a soft feel to this strand.
Various combinations of shell strings are used as ceremonial money as well as jewelry. Disks are restrung as needed. Teeth used are porpoise, dog, flying fox (fruit bat), possum and pig. Exchanges on Malaita required shell for shell, teeth for teeth. Early European traders manufactured and traded porcelain dog teeth and shell rings.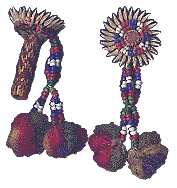 Figure 7: Beaded earplug disks from Malaita circled with tiny porpoise teeth.
Porpoise teeth (about 300-400 teeth) were used along with dog teeth as part of bride price payments on Malaita and for burial ceremonies. The people in Lau Lagoon held porpoise drives to get teeth. Each porpoise has about 150 teeth. Different sizes were worth different amounts. It took ten large teeth to hire a big seagoing canoe.

Figure 8: Ornament of porpoise teeth and very fine shell disk circlets threaded with glass trade beads
Figure 9: Armband made with shell disks and porpoise teeth. This open-work style of jewelry is used for chest bandoliers for dances and shell vests for brides. Solid beadwork appears in belts and older, patterned armbands of fine cut shell beads.

Figure 10: Nelo shell nose ornament from Santa Cruz Island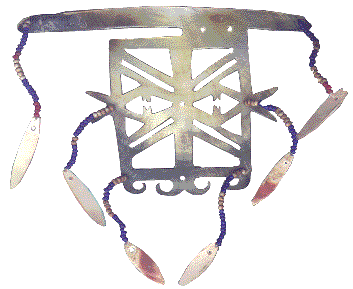 Figure 11: Map of the Solomon Islands and Bougainville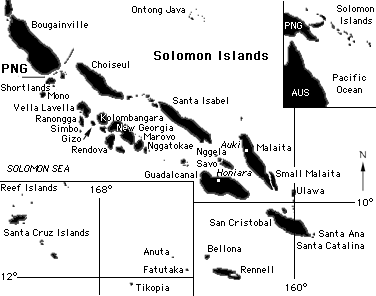 SEE ALSO:
Links in this site:
Notes
(1) Turtleshell (bala): Turtles are partially protected in the Solomon Islands. Only full sized adults may be killed for use in Custom feasts.
(2) Alternate spellings for:

kapkap: kap kap
tema: tambe
dafi: tahi
la'oniasi: laoniasi
Order now: Art Dealer in the Last Unknown, Ron Perry and New Guinea Art, the early years: 1964 - 1973 by Carolyn Leigh and Ron Perry, 320 pages of adventure, over 450 early photographs - join Ron in the jungles of New Guinea on his search for tribal art.
Browse OCEANIC ART:
INDONESIAN ART:
CHINA: BAI TEXTILES/ART:
Collecting New Guinea art in the field since 1964.

https://www.art-pacific.com/artifacts/nuguinea/solomons/jewelry.htm | Contact Us | Art-Pacific at https://www.art-pacific.com/
Artifacts on this site were collected in the field by my husband, Ron Perry. I take the photographs, do the html, text and maps. Background in Who We Are. Art-Pacific has been on the WWW since 1996. We hope you enjoy our New Guinea tribal art and Indonesian folk art as much as we do.
Art-Pacific.com by Carolyn Leigh is licensed under Creative Commons CC BY-ND 4.0