Art-Pacific home | Site map | Guide to artifacts > New Guinea artifacts > Pigment, Oil, Skin > Oil for Shine...
Art-Pacific (Carolyn Leigh - Ron Perry): Guide to Artifacts
Oil for Shine...
buy traditional jewelry from JungleOutpost.com and NewGuineaArt.com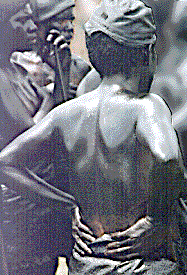 Powdered charcoal is mixed with tree oil or water to make a black body paint. These women are part of a group spoofing the early patrols into the Highlands by the Leahy Brothers. The Leahys brought coastal people with them, including Buka people from Bougainville Island whose skin is distinctly different, a blue-black, instead of the various brown skin shades of New Guinea Island people.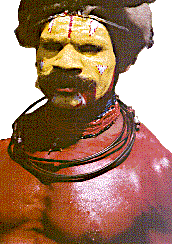 Oils are mixed with color to give the skin flash. Skin should look healthy and glow with power, not flat or dull which might indicate underlying illness or ill will. The ability of a group to put on a strong, powerful dance indicates real power: moral and physical as well as wealth and excellent health. The massed numbers of beautifully decorated warriors indicate the fighting strength of a clan.
Accenting the sheen of his brilliant yellow and red colors, this Huli from the Southern Highlands Province wears cane neck bands and trade store beads. Link to Painted Faces 2 for a photo of a Huli wigman wearing the manda tene, a downturned human hair wig for initiated men, and Painted Faces 5 for a closeup of Huli face paint.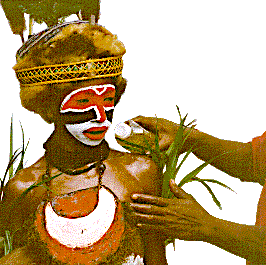 New Guinea people are not shy about adapting things to suit their own purposes. If it works; it's good. Tigaso tree oil is traded up from the southern lowlands near Lake Kutubu in bamboo tubes, but the trade store vegetable oil being used here will do. Ron's daughter remembers when she was a little girl being picked up and carried along steep trails by Highland women glistening with pig grease.
The Mendi rent their elaborate adult headdresses from men in their tribe who specialize in them. Other ornaments may also be borrowed or rented. Link to Painted Faces 1 for another boy in this group from Mendi, Southern Highlands Province. Photograph by Scott Perry.
Photographs copyright Carolyn Leigh and Scott Lewis Perry, 1998.
buy traditional jewelry from JungleOutpost.com and from NewGuineaArt.com
Order now: Art Dealer in the Last Unknown, Ron Perry and New Guinea Art, the early years: 1964 - 1973 by Carolyn Leigh and Ron Perry, 320 pages of adventure, over 450 early photographs - join Ron in the jungles of New Guinea on his search for tribal art.
Browse OCEANIC ART:
INDONESIAN ART:
CHINA: BAI TEXTILES/ART:
Art-Pacific Home | Site map | top of page
Collecting New Guinea art in the field since 1964.

https://www.art-pacific.com/artifacts/nuguinea/bilas/bodyart/pigment/pigmentb.htm | Contact Us | Art-Pacific at https://www.art-pacific.com/
Artifacts on this site were collected in the field by my husband, Ron Perry. I take the photographs, do the html, text and maps. Background in Who We Are. Art-Pacific has been on the WWW since 1996. We hope you enjoy our New Guinea tribal art and Indonesian folk art as much as we do.
Art-Pacific.com by Carolyn Leigh is licensed under Creative Commons CC BY-ND 4.0