Art-Pacific home | Site map | Guide to Artifacts > China: Bai Artifacts > Bai Minority Group Baby-Carriers
Art-Pacific (Carolyn Leigh - Ron Perry): Guide to Artifacts
Bai Minority Group Baby-Carriers, Yunnan Province, China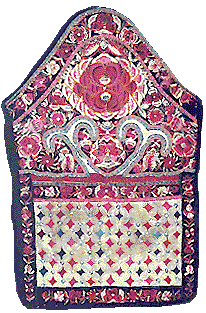 The Bai have lived as long as 4000 years in the fertile, but rugged mountains of the Cangshan-Erhai Lake area in what is now Yunnan Province of southwestern China. At one time they controlled a strong regional empire.
The women have kept much of their traditional dress. In the towns of Dali and Shaping, we saw many contented babies in these beautiful carriers. The carriers are padded with a layer of horse hair and quilted felt. The ties are crisscrossed in front and tied around the mother's waist to secure the baby.
Figure 1: Bai embroidered baby-carrier
In her book, Daughters of Mount Changshan and Erhai Lake, The Bais, Yang Guocai tells us:
Bai women hope for a daughter to help with domestic work. Before she gives birth, a woman's parents will send "delivery-hastening" food to her, which always includes a boiled egg with a needle in it. When eating the egg, the women will first see whether the needle is pointing up or down. A upward-pointing needle heralds the arrival of a boy, while the converse hints to the birth of a girl. If the first born baby is a girl, she is thought to bring happiness to her parents and the whole family.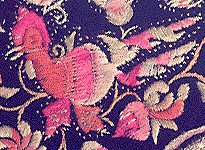 Figure 2: Detail of bird.
She is carried in an embroidered baby-carrier called a guobei, which is unique to the Bai nationality. The epaulet of the guobei is usually made of black flannel with embroidered peony flowers in the center and plum blossom and chrysanthemum on both sides, all surrounded by dancing butterflies and a phoenix above and lotus with green leaves, magpies, animals, and flowers at the bottom.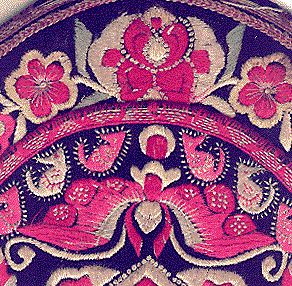 Figure 3: Detail of butterfly, animals and flowers.
The lower part is usually made of white cloth with patterns of balls pieced together from cloth strips. The tie braces are embroidered to match the entire bright color of the guobei. This guobei is said to not only protect the women's waist and belly, but also make the baby free and comfortable on the adult's back, where she cannot interrupt the work of her mother.
The Bai people believe that flowers are symbol of happiness and auspiciousness and hope girls are as pure and pretty as flowers, so many names are connected with flowers. Jinhua (golden flower) means the girl is as precious as gold. Today, the name Jinhua is recognized as a Bai name, because it has come to symbolize the good nature of Bai women. The life of Bai women is a struggle to create a life as beautiful as flowers.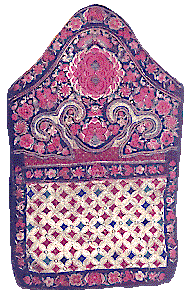 Figure 4: Bai embroidered baby-carrier.
SEE ALSO:
Links in this site:
Browse China: Bai textiles/art: Bai baby-carriers | Bai hats | Bai woodblock prints
Browse OCEANIC ART:
INDONESIAN ART:
CHINA: BAI TEXTILES/ART:
Art-Pacific Home | Site map | top of page
Collecting New Guinea art in the field since 1964.

https://www.art-pacific.com/baicarro.htm | Contact Us | Art-Pacific at https://www.art-pacific.com/
Artifacts on this site were collected in the field by my husband, Ron Perry. I take the photographs, do the html, text and maps. Background in Who We Are. Art-Pacific has been on the WWW since 1996. We hope you enjoy our New Guinea tribal art and Indonesian folk art as much as we do.
Art-Pacific.com by Carolyn Leigh is licensed under Creative Commons CC BY-ND 4.0