Art-Pacific home | Site map | Guide to Artifacts > China: Bai Artifacts > Bai Minority Group Hats
Art-Pacific (Carolyn Leigh - Ron Perry): Guide to Artifacts
Bai Minority Group Hats, Yunnan Province, China

The Bai women are excellent embroiderers and a girl's embroidery has been the measure of her skills. The women call it spreading flowers.
They combine stitches of all sorts with batik, tie dye, gold and silver plate thread, and 3-dimensional applique among other techniques. The Bai men dress like other men in China, but the Bai women proudly wear their traditional clothing and sell their work to neighboring ethnic groups and to visitors.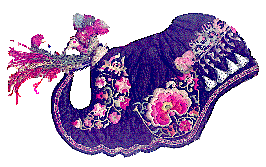 Each area has a slightly different style. "Those living in villages in Dali and hamlets on the eastern shores of Lake Erhai wear fishtail-shaped or phoenix-shaped caps....

A legend tells that there were once twin sisters in a Bai village who were pretty and diligent. At the time of a bumper harvest, their beauty attracted flocks of birds coming to bow to the phoenix, the king of birds. The gold phoenix gave its cap to the girls, which made them look even more beautiful. But the elder girl was caught by the jealous king and died in the palace.

To avenge her, her younger sister, wearing the phoenix cap, entered the palace and killed the tyrannical king. To remember the beautiful and industrious girl, women in some Bai areas wear phoenix-shaped caps even today."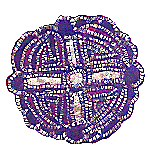 Silver plate thread detail.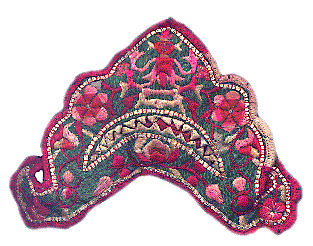 Detail of front crest with uniquely Bai figure.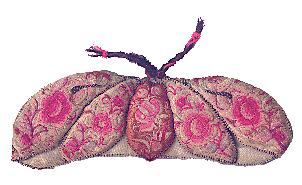 This child's 3-dimensional applique butterfly hat has human hair for it's antennae.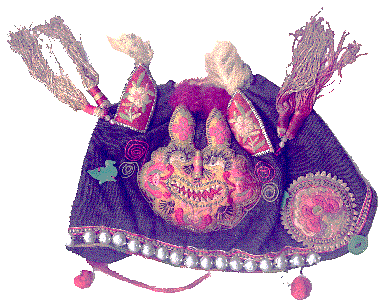 A baby girl "wears colorful clothes, the embroidered goupiyi (baby clothes of the Bai that symbolize healthy development) made by her mother and grandmother" including a fishtail-shaped cap, or a phoenix-head or lion-head cap decorated with images of Buddhas or drums made of silver or jade (or green plastic) and patterns of animals, birds, flowers and fish.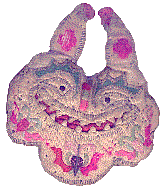 The Bai people say, "A horse needs a saddle to look good; people need beautiful clothes".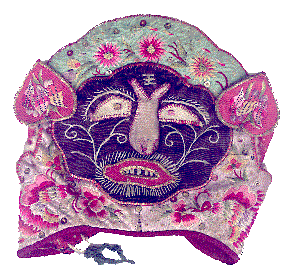 All quotes are from Daughters of Mount Changshan and Erhai Lake, The Bais, by Yang Guocai.
SEE ALSO:
Links in this site:
Browse China: Bai textiles/art: Bai baby-carriers | Bai hats | Bai woodblock prints
Browse OCEANIC ART:
INDONESIAN ART:
CHINA: BAI TEXTILES/ART:
Art-Pacific Home | Site map | top of page
Collecting New Guinea art in the field since 1964.

https://www.art-pacific.com/baihatso.htm | Contact Us | Art-Pacific at https://www.art-pacific.com/
Artifacts on this site were collected in the field by my husband, Ron Perry. I take the photographs, do the html, text and maps. Background in Who We Are. Art-Pacific has been on the WWW since 1996. We hope you enjoy our New Guinea tribal art and Indonesian folk art as much as we do.
Art-Pacific.com by Carolyn Leigh is licensed under Creative Commons CC BY-ND 4.0