Art-Pacific home | Site map | Guide to artifacts > New Guinea artifacts > Phallocrypts
Art-Pacific (Carolyn Leigh - Ron Perry): Guide to Artifacts
Phallocrypts from Papua New Guinea and Papua (Irian Jaya), Indonesia
buy phallocrypts from JungleOutpost.com and NewGuineaArt.com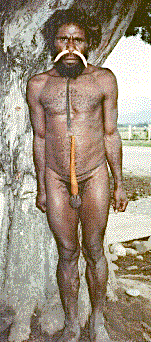 Before the arrival of Europeans, the people of tropical New Guinea got by with minimal clothing. Grass skirts, tapa (bark) cloth capes, bark string laplaps and phallocrypts made of gourds did the job.
Figure 1: Dani man waiting in the cool morning fog of the Baliem Valley, Wamena, Irian Jaya. He wears only a gourd koteka, a pig tusk nose piece and a narrow necklace of braided bark string.
Now most New Guineans wear westernized clothes. T-shirts are everywhere. In the villages, laundry facilities are limited to river water. Soap must be purchased in town with limited cash, so it's often impossible to keep even a few clothes looking very clean. Many of the recent photos of villagers unfortunately look as if everyone runs around in dirty T-shirts and shorts.
In Indonesia, the government does not like the primitive appearance of traditional dress or undress as they see it. If a person has business with a government office, they must appear in western clothes. However, the Baliem Valley and surrounding mountain areas of Irian Jaya are one of the few places where men still routinely wear phallocrypts. Although the gourd phallocrypts are a hot item for tourists in both Papua New Guinea and Irian Jaya, they are just everyday wear in the mountain villages.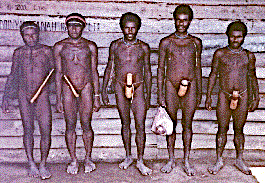 Figure 2: The three Tiom men on the right have walked in to shop at the market in Wamena, Irian Jaya. The two men on the left are Danis from the Wamena area.
The gourds are grown in the village gardens. Each area has a distinctive style. The men around Wamena wear a long, narrow gourd called a koteka that is held in place by a thin string tied around their waist. Sometimes there is a white feather bobbing on the end of the gourd. The Tiom area is a five day trek from Wamena. The men from there wear a double gourd. They stash paper money and tobacco in the space between the two gourds. These larger double gourds are held up with bands of cloth.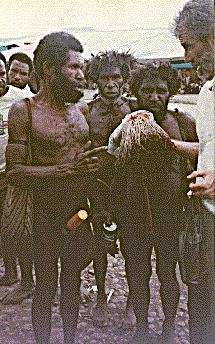 Figure 3: Man bargaining with Ron over a bark string woman's laplap. His phallocrypt is made from a discarded yellow flashlight. Several men routinely come into Wamena to sell items to tourists and this man is one of these traders.
The people on the Papua New Guinea side of the island have retained a strong feeling for their traditions, even if they wear store clothes for everyday use. For ceremonies and dance, they dress as their ancestors did and are proud of it.
The Sepiks in Papua New Guinea turn out a large number of gourd phallocrypts for sale to tourists. Recently, they have been elaborating on these with woven faces and lots of dangling shells and seeds on bigger and bigger gourds. There's a lot of joking going on when these are sold.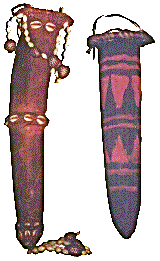 Figure 4: Two sets of phallocrypts (skin pas in Pisin). The plainer gourd sheaths are more typical of Sepik River styles, while the other set is pure entertainment, usually for sale to tourists, although some of the comic groups at the dance competitions like the Mt. Hagen and Goroka shows will use elaborated, humorous phallocrypts.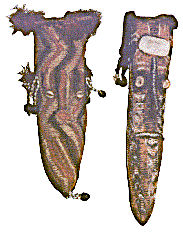 See also:

Photo of Dani warriors outside of Wamena, Irian Jaya wearing phallocrypts in Bows and Arrows.
buy phallocrypts from JungleOutpost.com and from NewGuineaArt.com
Order now: Art Dealer in the Last Unknown, Ron Perry and New Guinea Art, the early years: 1964 - 1973 by Carolyn Leigh and Ron Perry, 320 pages of adventure, over 450 early photographs - join Ron in the jungles of New Guinea on his search for tribal art.
Browse OCEANIC ART:
INDONESIAN ART:
CHINA: BAI TEXTILES/ART:
Collecting New Guinea art in the field since 1964.

https://www.art-pacific.com/artifacts/nuguinea/bilas/phalloco.htm | Contact Us | Art-Pacific at https://www.art-pacific.com/
Artifacts on this site were collected in the field by my husband, Ron Perry. I take the photographs, do the html, text and maps. Background in Who We Are. Art-Pacific has been on the WWW since 1996. We hope you enjoy our New Guinea tribal art and Indonesian folk art as much as we do.
Art-Pacific.com by Carolyn Leigh is licensed under Creative Commons CC BY-ND 4.0