Art-Pacific Home | Site map | Who We Are: Ron Perry, Carolyn Leigh and Doug Mehaffey > Collecting in the Wosera, late 1980's
Art-Pacific (Carolyn Leigh - Ron Perry): Guide to Artifacts
Collecting in the Wosera, ESP, PNG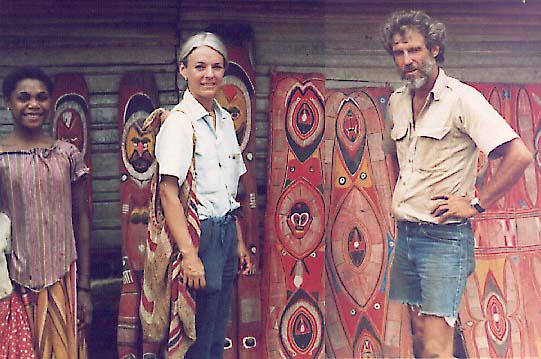 Ron Perry and Carolyn Leigh in the hill country of the Maprik-Wosera area, part of the East Sepik Province of Papua New Guinea, in the late 1980s - we are a bit grayer now!
The painted sago bark panels on the right decorate this Abelam village's house fronts. The ancestral figures on the left are from the men's Haus Tambaran. The colors are natural pigments and dyes from the surrounding jungle.
More information on the Abelam and on New Guinea bark paintings in our Guide to Artifacts.
Order now: Art Dealer in the Last Unknown, Ron Perry and New Guinea Art, the early years: 1964 - 1973 by Carolyn Leigh and Ron Perry, 320 pages of adventure, over 450 early photographs - join Ron in the jungles of New Guinea on his search for tribal art.
New Guinea Tribal Art eGuide by Carolyn Leigh with Ron Perry and Doug Mehaffey. Find out about your fabulous piece of New Guinea tribal art. The eGuide provides quick info about New Guinea art and art areas with links to more information. The eGuide contains over 130 photographs and 10 maps, plus adventure photos from Ron's explorations in New Guinea. Buy now from Amazon or from the Apple Store through iTunes for all your electronic book readers - only $3.99.
Browse OCEANIC ART:
INDONESIAN ART:
CHINA: BAI TEXTILES/ART: