Art-Pacific Home | Site map | Dealers and Galleries > Taylor A. Dale - Tribal Arts, Santa Fe, New Mexico, USA
Taylor A. Dale - Tribal Arts
129 West San Francisco Street, Santa Fe, New Mexico, USA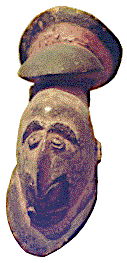 Tad and Sandy Dale specialize in antique tribal arts with a focus on design aesthetics from the Oceanic, African and American Indian tribes.
They lived in London for many years before opening their Santa Fe gallery in 1987. They have a superb selection of interesting, museum quality tribal art. Shields from Tad's private collection are featured in museum exhibitions and books.
Figure 1: Abelam yam ceremony carving wearing German-era village official hat from the South Wosera, East Sepik Province, Papua New Guinea
Figure 2: Papuan Gulf bioma, Papua New Guinea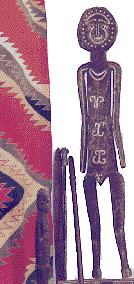 Taylor A. Dale Tribal Art and Design
Textiles, Shields, Tribal Paintings, Sculpture, Furniture and Forms
Antique African, American Indian, Australian and Oceanic Arts
Packing and shipping available.
By appointment
Santa Fe, New Mexico USA
Tel: 1-505-989-9588
Email: tribaldesign@cybermesa.com
Available now: Art Dealer in the Last Unknown, Ron Perry and New Guinea Art, the early years: 1964 - 1973 by Carolyn Leigh and Ron Perry, 320 pages of adventure, over 450 early photographs - join Ron in the jungles of New Guinea on his search for tribal art.
Browse OCEANIC ART:
INDONESIAN ART:
CHINA - BAI TEXTILES:
Art-Pacific Home | Site map | top of page

Photographs, text and maps copyright © Carolyn Leigh, 1996-2011. All rights reserved.
http://www.art-pacific.com/gallery/retail/taddale.htm
Contact Us
Artifacts on this site are collected in the field by my husband, Ron Perry. I take the photographs, do the html, text and maps. More background in Who We Are. Art-Pacific has been on the WWW since 1996. We hope you enjoy our New Guinea tribal art and Indonesian folk art as much as we do. Carolyn Leigh, P.O. Box 85284,Tucson, AZ 85754-5284 USA, Art-Pacific at http://www.art-pacific.com/