Abelam Yam Masks and Tops | Yam Lining

Art-Pacific (Carolyn Leigh - Ron Perry): Guide to artifacts
Yam Lining, East Sepik Province, Papua New Guinea
buy New Guinea yam masks and tumbuans from JungleOutpost.com and NewGuineaArt.com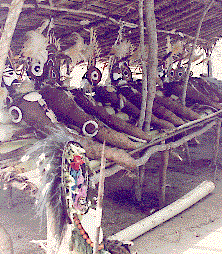 Figure 1: Decorated yams lined on display bed inside the haus wind. Display includes several shell money rings.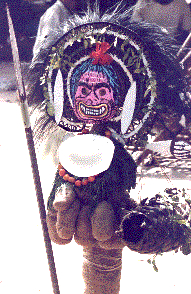 Figure 2: Detail (see Figure 1, lower left corner) of female yam with purchased trade store Halloween mask mounted on a basket yam fan. Additional decoration includes shell jewelry, a spear, red hibiscus, orange fruits and feathers.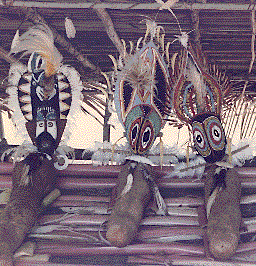 Figure 3: Three brightly decorated male yams on the display bed. The left yam has a wooden yam mask and a top knot of Bird of Paradise feathers, the two right hand ones wear basket masks.
Photos by Ron Perry, mid-1970s, North Abelam area east of Maprik, East Sepik Province, Papua New Guinea .
Back to Abelam Yam Masks and Tops or Abelam Wooden Yam Masks
buy New Guinea yam masks tumbuans from JungleOutpost.com and from NewGuineaArt.com
More articles/photos of NEW GUINEA MASKS:
Order now: Art Dealer in the Last Unknown, Ron Perry and New Guinea Art, the early years: 1964 - 1973 by Carolyn Leigh and Ron Perry, 320 pages of adventure, over 450 early photographs - join Ron in the jungles of New Guinea on his search for tribal art.
Browse OCEANIC ART:
INDONESIAN ART:
CHINA - BAI TEXTILES:
Collecting New Guinea art in the field since 1964.
Art-Pacific Home | Site map | top of page

Photographs, text and maps copyright © Carolyn Leigh, 1996-2011. All rights reserved.
http://www.art-pacific.com/artifacts/nuguinea/yamline.htm
Contact Us
Artifacts on this site are collected in the field by my husband, Ron Perry. I take the photographs, do the html, text and maps. More background in Who We Are. Art-Pacific has been on the WWW since 1996. We hope you enjoy our New Guinea tribal art and Indonesian folk art as much as we do. Carolyn Leigh, P.O. Box 85284, Tucson, AZ 85754-5284 USA, Art-Pacific at http://www.art-pacific.com/