Art-Pacific (Carolyn Leigh - Ron Perry): Guide to artifacts
Map of the Middle Sepik River, East Sepik Province, Papua New Guinea
buy New Guinea masks from JungleOutpost.com and NewGuineaArt.com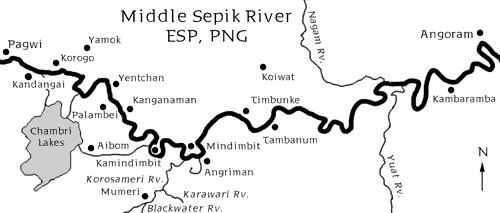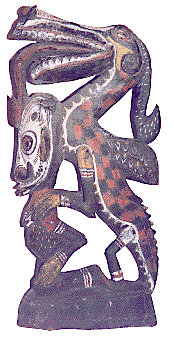 The true Middle Sepik starts just above Pagwi and continues down to the Sepik's junction with the Yuat River. Not shown are three main roads that come out from Wewak on the coast to the north side of the river. The upper road goes to Pagwi, a middle road to Timbunke and the lower road to Angoram.
The Sepik-Ramu area is one of the most culturally diverse and rich areas of the island of New Guinea. Each village has a distinctive style. Most figures and masks represent clan ancestor figures or totemic animals or birds. Some of the ancestors are people known to living members of the village and some are from the distant past when the various clans emerged and migrated to their present territories and villages.
Figure 1: Clan ancestor figure backed by totemic creature with bird and crocodile features, Mumeri Village.
See also: Guide to Sepik River Carvings
buy New Guinea figures from JungleOutpost.com and NewGuineaArt.com
Order now: Art Dealer in the Last Unknown, Ron Perry and New Guinea Art, the early years: 1964 - 1973 by Carolyn Leigh and Ron Perry, 320 pages of adventure, over 450 early photographs - join Ron in the jungles of New Guinea on his search for tribal art.
Browse OCEANIC ART:
INDONESIAN ART:
CHINA - BAI TEXTILES:
Collecting New Guinea art in the field since 1964.
Art-Pacific Home | Site map | top of page

Photographs, text and maps copyright © Carolyn Leigh, 1996-2011. All rights reserved.
http://www.art-pacific.com/artifacts/nuguinea/sepikriv/sepikmap.htm
Contact Us
Artifacts on this site are collected in the field by my husband, Ron Perry. I take the photographs, do the html, text and maps. More background in Who We Are. Art-Pacific has been on the WWW since 1996. We hope you enjoy our New Guinea tribal art and Indonesian folk art as much as we do. Carolyn Leigh, P.O. Box 85284, Tucson, AZ 85754-5284 USA, Art-Pacific at http://www.art-pacific.com/